We have some great promotions running right now (and for the next few months) on a couple of the most popular American Standard toilets on the market. Both are white, two-piece, elongated, Right Height toilets:
American Standard is known for making great bathroom fixtures, and it's no exception with toilets, which are manufactured to offer comfort and convenience with long-lasting construction and aesthetics.
While supplies last, you can get an Easy Lift and Clean toilet seat (more information at bottom of article) included with your new Champion Pro toilet at a great low price with our exclusive Champion Pro Right Height/Easy Lift Seat Bundle deal.
American Standard Champion Pro – Right Height, Elongated
When you check out all the features this toilet offers, it's easy to see why it's a best-seller:
As you'd expect, this toilet complies with EPA WaterSense standards.
The PowerWash feature, as well as the EverClean surface, combine to ensure your toilet requires a lot less effort on your part to keep it clean. EverClean permanently inhibits the growth of bacteria, mold, and mildew.
The accelerator flush valve operates off of piston action.
Right Height convenience
Elongated bowl
Two-piece configuration
1.28 GPF
Includes EZ-Install accessories, like tools and bowl caps.
Metal shank fill valve
10-year warranty
Bowl only: American Standard 3195.A101.020
Tank only: American Standard 4225.A104.020
American Standard H2Option – Dual Flush, Right Height, Elongated
Complies with EPA WaterSense standards.
Includes PowerWash as well as EverClean surfaces, just like the Champion Pro.
Siphonic action dual flush allows you to use 25% less water (1.0 GPF), or you can opt for the full 1.6 GPF when it's needed.
Flushes with a chrome top-mounted push button.
Includes a Sanitary Dam on the bowl.
Right Height convenience
Elongated bowl
Two-piece configuration
5-year warranty
Bowl only: American Standard 3705.216.020
Tank only: American Standard 4133.218.020
Slow Close Easy Lift and Clean Elongated Toilet Seat
Last, but not least, the innovators at American Standard have come up with another convenient solution for your bathroom, the American Standard 5257A.65C.020 Slow Close toilet seat (elongated):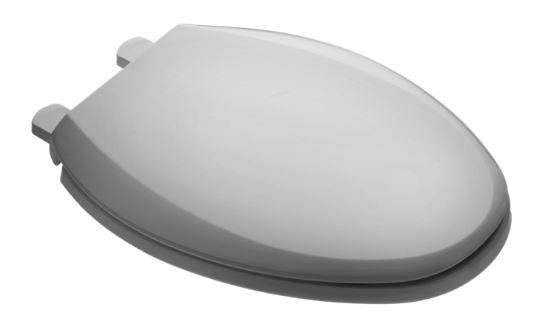 Bottom mount seat that includes a quick connect nut that can be removed without tools for cleaning purposes.
The slow-close hinge is an awesome feature, especially for people with lower back pain who don't want to bend over to ensure a quiet experience closing the toliet seat.
This seat will fit any conventional elongated toilet.
EverClean surface