**U by Moen Shower Winter 2019 Update**
Moen has now released its world-famous U by Moen digital controllers in black. Save on the Moen TS3304BL (black, four outlets) and the Moen TS3302BL (black, two outlets) when you shop online with PlumbersStock. We have added exclusive bundles to our product offering. You can get the controller, valve, and battery pack all in one convenient kit:
And be sure to check out the 2020 U by Moen intelligent faucets release.
Create up to 22 predetermined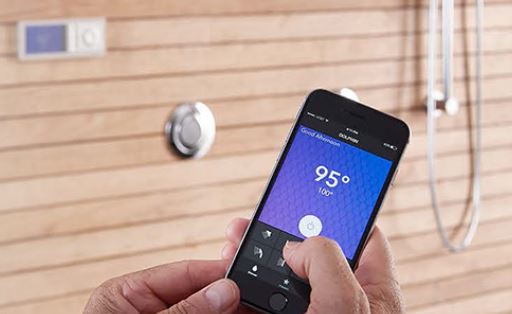 settings (2 on the controller and 20 on the app) for a unique and customized experience with the U by Moen shower system. These shower valves operate with a wifi connection and cloud storage to bring you the ultimate comfort. This smart shower can even send notifications to your smartphone that your shower is ready. You've never had this type of control over your shower faucets before.
There are two different system configurations that you can install: Moen has made a 4-outlet configuration and one with two outlets. Each has a unique interface to match the valve:
Time your shower perfectly. Start and pause your shower remotely to warm it up and reduce waste. Choose the perfect temperature and use your device to notify you when the shower has reached the desired climate. On top of all that convenience, you can expect the best prices on Moen when you shop PlumbersStock.

How would I Use the Smart Shower Settings?
If you are the type of person who likes to wake up to a hot shower but prefers a cooler experience after a workout, then you would program your system with two different settings accordingly.
This brief video will help give you an idea of the potential that the U by Moen Shower offers you.
How to Set Up U by Moen Shower
Here is a helpful Moen resource showing you how to register and sync the U by Moen app.
Controller Setup
Start the controller – push the power button in the center to start it up. You should be seeing the setup screen when it does start up.
Select your preferred language – with the hot and cold arrows, scroll to your preferred language. There are only three: English, French, and Spanish. Confirm your selection by pressing "Done".
Choose your time zone – in addition to time; you can select the preferred time zone, country, and temperature units, using the hot and cold arrows to scroll. Confirm your choices by pressing "Done".
Selecting the optional Water Savings Mode – This is easy, just read the explanation and then hit "Next." If you want to implement it or are required by law or contract to engage the Water Savings Mode, select "Yes".
That's just the initial setup. It gets slightly more involved after that (but it's still a pretty simple process, for the most part). For more information, like how to download the app, how to sync the app to the controller, and how to program settings from the app, visit the Moen U Support page.
U by Moen Shower Installation Tips
Here is a helpful U by Moen installation video showing you everything you need to know.
The digital valve does not require placement behind the shower wall. You can install the valve up to 30 feet away from the controller.
It must be connected to a GFCI outlet, and the valve must not be covered entirely.
You risk damaging the equipment if the ambient temperature exceeds 104 degrees or gets below freezing.
The Valve can lay flat horizontally or be secured right side up, vertically. Do not install it vertically on its side or upside down (see image to the right). This is a very specialized shower rough in.
The controller has buttons A thru D (depending on 4-outlet vs. 2-outlet) that align with corresponding valves.
Install the battery backup kit so your shower can operate when the power is out.
For more installation tips and detailed instructions about your new smart shower, consult the manual. Please ask in the comment section if you have any questions about the U by Moen shower. No matter what kind of smart home products you need, PlumbersStock has excellent prices on everything we carry.
by Nathan Baker