We are so pleased to announce the arrival of Moen M-CORE valves. If you are a homeowner, or especially an industry professional, then you should be excited about the new Moen M-CORE shower valves. This system is an installer's dream. Industry professionals need to adopt M-CORE, and we'll cover the reasons why. At PlumbersStock, we carry all the Moen faucets, parts, and accessories that you need.
What Is M-CORE?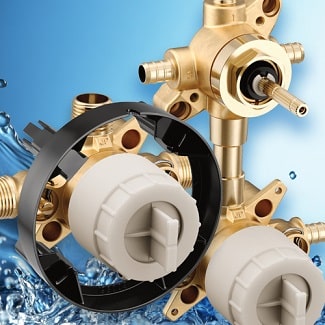 The first question you have must be, what is M-CORE? Simply put, it's a shower valve system that makes the installation process easier for professionals. Moen describes it this way:
The M-CORE system features an integrated mounting bracket that secures the valve directly to a brace, streamlining the installation process. It offers a quicker temperature limit stop adjustment process, and the integrated test plug allows installers to easily flush and test the system without having to remove or install the cartridge. M-CORE mixing and transfer valves also are available in several inlet and outlet plumbing options to meet the needs of installers.
The next question people ask is, how does M-CORE work? To start, M-CORE valves have pressure-balancing capabilities that will manage temperature fluctuations as the water pressure in the home changes. They deliver great functionality, and the 3 Series trim is available in a wide range of styles and colors. We'll let the experts at Moen explain the installation ease:
​​​​​​Valve installation is an extremely technical and tremendously complex job that requires a lot of time and a high level of plumbing skill. It can be tricky and time-consuming. The M-CORE valve system is making this process a whole lot easier for pro installers by allowing them to quickly and efficiently install a valve that will allow for adaptable functionality once it has been plumbed. The valve's features were designed to reduce time and labor costs, without sacrificing work quality.
Lastly, we have a helpful resource for those that are wanting to compare M-CORE vs. Moentrol.
M-CORE 3 Series Trim
You're going to love the new 3 Series trim because it's designed for improved aesthetics. Compare Moentrol trim (on top) to M-CORE trim (on bottom):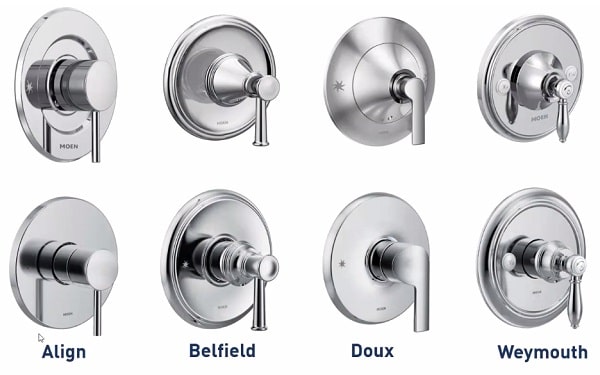 You may be wondering about old Moentrol valves, and if they'll have to be replaced when the trim needs replacement. Moen is planning on continuing to manufacture Moentrol trim options with the following collections:
Mixing valve only trim = Align, Kingsley, Voss
Mixing valve trim + transfer valve trim = Align, Kingsley
Transfer valve trim only = Align, Kingsley, Voss, M-DURA
M-CORE Rough-In Valves
There are a few key things to know. With M-CORE, cartridges do not come with mixing valves. You buy the cartridge with the trim. That allows the home builder to install the framework for whatever functionality the future homeowner wants to implement. However, cartridges do come with transfer valves. That remains true for M-CORE valves with integrated transfer valves, meaning they come with one cartridge, and you get the other with trim.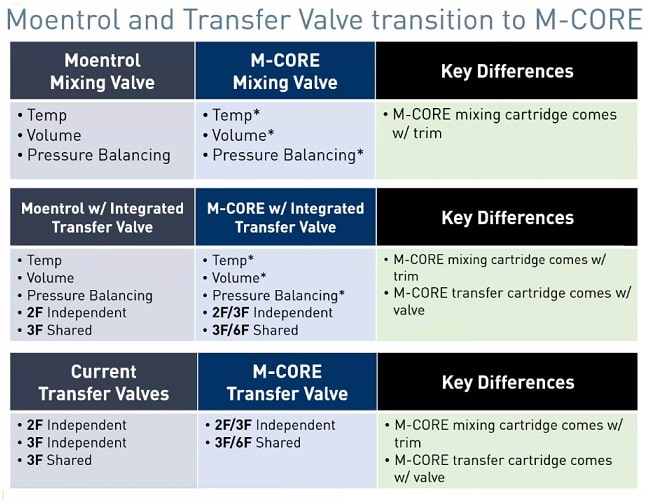 One nice thing about M-CORE is that it allows for 1/4″ of variability in wall thickness during installation. Meaning it can handle thick and thin walls (up to a point). Another important thing to remember is that there is no backward compatibility with old trim. Upon its release, this collection offers 30 different kinds of rough-in valves:
Shower Only Mixing Valves
If you are planning a shower only installation, then you will want one of the following valves:
Tub/Shower Mixing Valves
Now, pay attention because there are a bunch of different tub/shower valve options. Here are the most basic installations:
Prefab Tub/Shower Mixing Valves
One of the greatest pain points for contractors doing new construction is creating the sweat connection on the tub el. Moen is offering this prefabricated option, which means the tub el is already connected.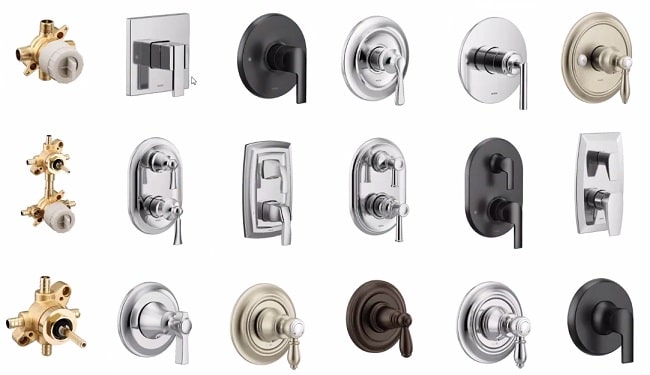 Mixing Valves with Diverters
Moen boasts that M-CORE is designed with the installer in mind. The mounting bracket allows for flat installation. The mixing valve outlet aligns with the transfer valve inlet. Its smaller profile allows for more room within the 2×4 framing.
2/3 Function vs. 3/6 Function Explained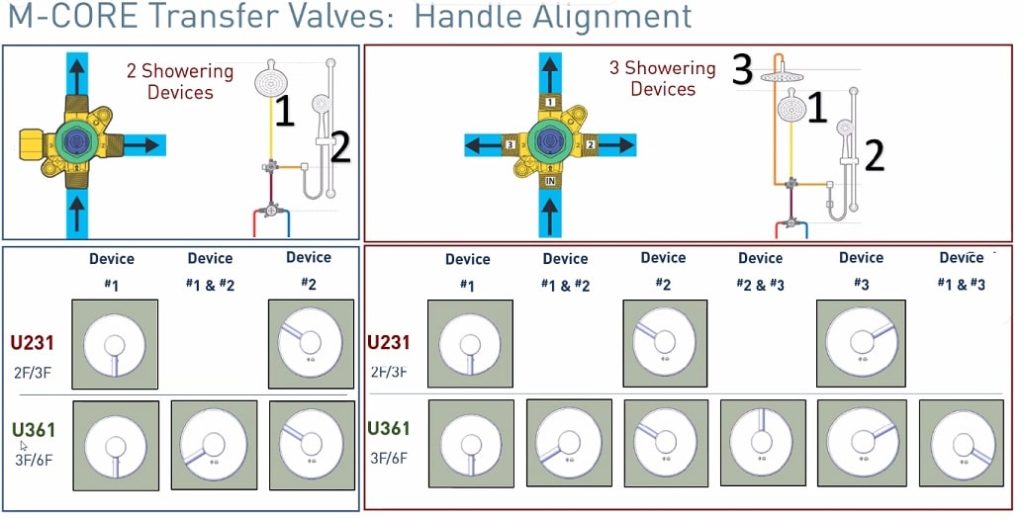 As the installer, you can plumb any of these six valves for up to three showering devices, for example, two showerheads and a hand shower. If you only have two devices, then you cap the 3rd port, and you have 2/3 function…meaning you have 2 devices and 3 options. To run one device, the other, or both. With 3/6 function, you are using all 3 ports with the option of running 1, 2, 3, or 1 + 2, 2 + 3, or 1 + 3.
Diverter Valves
If any of this is confusing to you, please contact us, and we'll find the answer you need. This chart may be helpful as you look for the right model for your needs: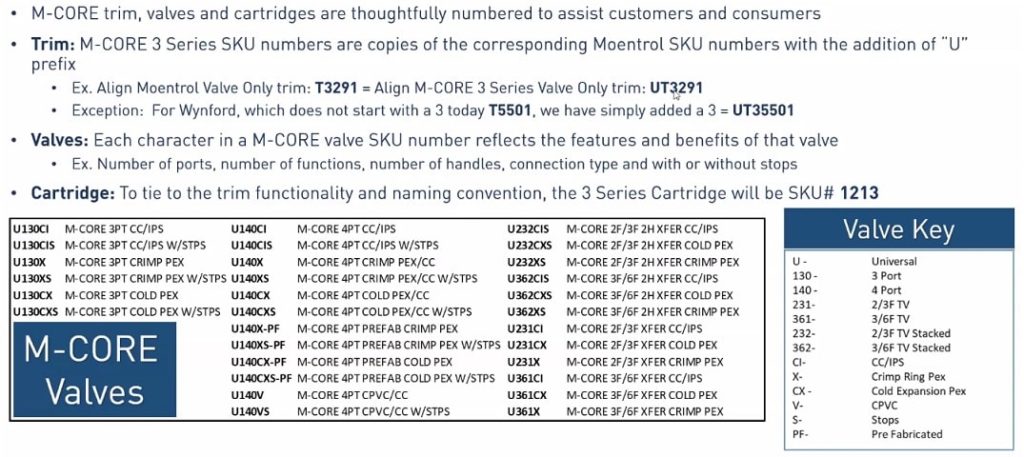 Discount Moen M-CORE Shower Valves at PlumbersStock
We are proud partners with Moen. Though we offer the lowest prices on the web for many options, in some cases, Moen does not allow us to advertise sale prices on certain items. If you happen to find a valve that we have listed at the same price as everybody else, contact us directly to see about possible special pricing. We want to give you the best deals; we are just bound by advertising agreements. If you are a contractor buying in bulk, we can do even better!