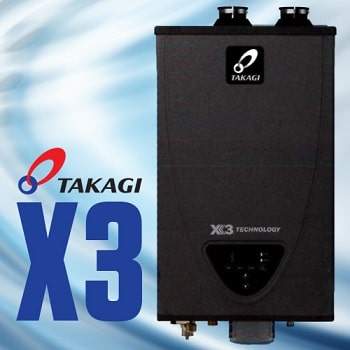 **2022 Update**
If you don't know, the Takagi X3 tankless water heaters that were promised in 2019 never became manifest. Until now, and it was worth the wait. PlumbersStock offers all the brand new models with X3 technology, and dozens of other Takagi tankless water heaters, as well. Let's get to the new X3 models.
Natural Gas:
Propane
Original article:
Ask any plumber, and they'll tell you that one of the biggest problems tankless water heaters face is scale build-up. Maintenance can be a significant pain, and it threatens the life of the water heater unit. The innovative engineers at Takagi have a solution. With that in mind, it's easy to see why we're so excited about the new Takagi X3 scale prevention technology. As Takagi explains this innovation:

Our cutting-edge X3 technology extends the unit's life three times longer than traditional tankless. It makes it the first tankless product that maintains "like new" performance without requiring regular scale-related maintenance.
If you are familiar with Takagi as a company, it should be no surprise that they continue to lead the way with quality engineering. As of this December 2019 announcement, Takagi has only three gas-fueled X3 models scheduled for Q1 2020 release (the exact date is not yet known):
160k BTU TK-160X3P
180k BTU TK-180X3P
199k BTU TK-199X3P
Takagi X3 Features
Here is a pretty comprehensive list of the features you will get with any of the Takagi X3 tankless water heater models. They only differ in their output:
Integrated recirculation pump
Life expectancy is three times longer than that of an unprotected unit. This is made possible by built-in media that requires no attention and will last the life of the water heater.
There is no need for regular scale maintenance.
There are no warranty exclusions for those with hard water in their area.
The unit maintains performance "like new" for longer.
2″ PVC venting makes installation easy.
It operates with a 1/2″ gas line.
ENERGY STAR rated
Fuel convertible and indoor/outdoor
How Many BTUs Do You Need?
If you are wondering how many BTUs you need, consider what your usage is? If you have a small residence with only a couple of showers and appliances, you can get away with 160,000 BTUs. You're going to want to pay attention to how many gallons of water per minute the tankless unit can heat. Between lavatory faucets, tub faucets, and the kitchen sink, each station uses between 1 and 2 gallons per minute. Think about how many faucets and appliances you'd realistically run at once, and then ask yourself how many gallons per minute of heated water will this model produce? 
Buy Takagi X3 Tankless Water Heaters at PlumbersStock
If you're in the market for a new water heater, you're in the right place. On-demand water heaters are taking over the industry because you only heat when needed, so there are no wasted resources. Tankless water heaters save you money in the long run, especially when they come equipped with patented X3 technology. It's worth the wait. 2020 is right around the corner. Come back and buy one when we get them in stock. If you have any questions about Takagi X3 tankless water heaters, like if you want to be put on a contact list, please contact us. If you aren't satisfied with what you see here from Takagi, then maybe check out one of our most popular models, the Noritz EZ111DV-NG tankless water heater.