In the plumbing industry, one of the most trusted names among pump manufacturers is Grundfos. In particular, they have a knack for making excellent pressure-boosting pumps. You may remember the MQ3 series, replaced by the SCALA2 series. It's easy to see why we are excited to announce the arrival of new Grundfos SCALA1 pressure booster pumps. They come with some awesome new features, but they aren't exactly a replacement for the SCALA2. We'll get into that more later. Here are the four pumps plus a couple of accessories: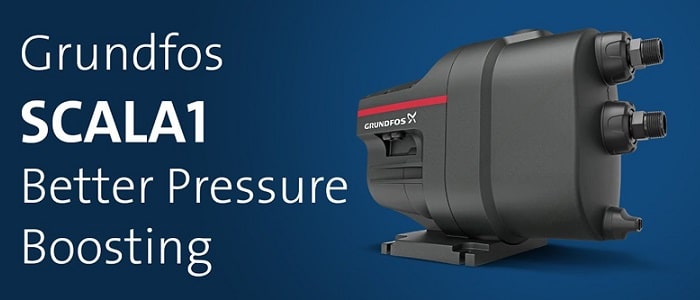 SCALA1 Features
Pressure boosters are designed to ensure that your home gets sufficient water pressure. With the SCALA1, you get most of the features you'd expect. Not that these are necessarily standard, but with Grundfos, you anticipate more, like: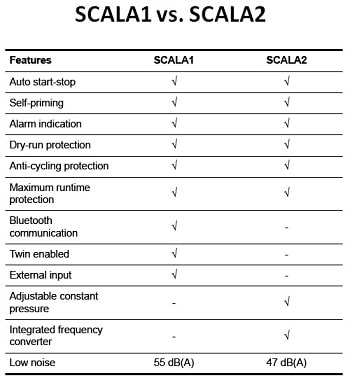 Auto start/stop
Self-priming
An alarm
Dry-run protection
Anti-cycling protection
Max runtime protection
On top of all that, it comes with a few new features that you can't get with the SCALA2. For example, the SCALA1 is Bluetooth enabled, and you can communicate with it via the GO Remote app. If you require a two-pump solution, you will love the twin booster system, which makes it easy to set up two pumps as side-by-side twin boosters. Last but not least, there is an external input for water, which is how this fixed speed system avoids overpressure.
We dig a little deeper into SCALA1 vs. SCALA2 in another article, if you are interested.
Indoor vs. Outdoor Installation
The preferred setup for most homeowners is indoors. That's because you will protect your booster pump from the elements, like sun, dust, rain, snow, etc.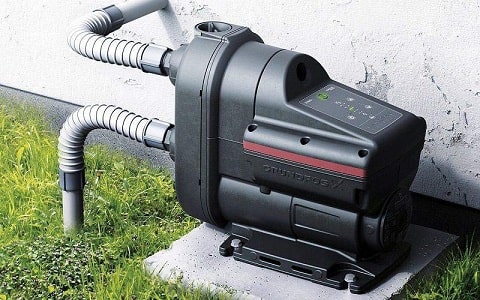 However, there is an exception to this rule. If your water source is a shallow well pump, you want to have your pressure booster outdoors. If you do install your SCALA1 outdoors, we recommend that you cover it. Consider a fake landscape rock that is designed to protect sprinkler valve boxes.
GO Remote App
The app is a free download, and it's user-friendly. It doesn't matter if you have an iPhone or Android. It does more than control your pressure booster. It's compatible with other Grundfos products, and it provides reporting and other cool features.
What's Next for Grundfos?
We're not certain, but we believe they will be re-releasing the SCALA2 upgraded with Bluetooth technology. It only seems natural, and that's what we would do in their position because the SCALA2 (which uses adjustable speed technology to combat overpressure) is an excellent solution that should be supported with smart controls.
Buy Grundfos SCALA1 Pressure Booster Pumps Online
Now that you got all the details, it's time to save on a Grundfos booster pump. No matter which pump you choose, you can save here at PlumbersStock. If you are buying in bulk, either because you are a contractor or are doing your own remodel, know that you can save even more with PlumbersStock if you contact us directly about special pricing.