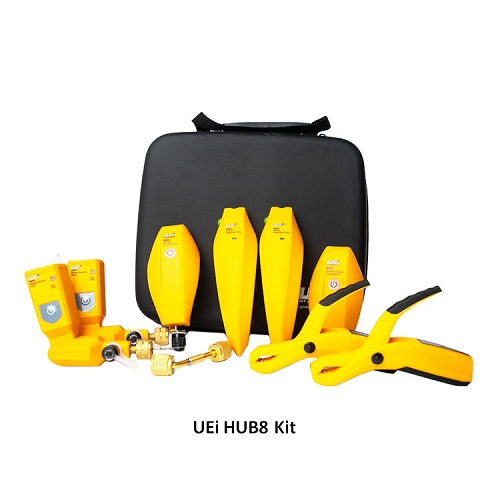 We are excited to introduce new UEi HUB smart refrigerant testing kits. These are comprehensive solutions for professional HVAC technicians. No matter what kind of HVAC supply you need, PlumbersStock has you covered. We've got every type of HVAC tool from the most trusted brands, including cameras and sensors.
Are you an HVAC technician or contractor looking for a reliable and efficient tool kit to enhance your refrigeration system work? Look no further than the UEi HUB testing kits. They make refrigeration testing and diagnosis a breeze. There are two tool sets to choose from:
What Is Included in the UEi HUB6 Kit?
The HUB6 kit features a convenient carrying case, AAA and AA batteries, and a range of devices, including:
two wireless pressure probes,
a pair of wireless hygrometer probes,
and two pipe clamp probes.
One of the standout features of this kit is its wireless functionality. The WHP1 wireless hygrometer probe can effortlessly check the temperature and relative humidity. The WPP1 wireless pressure probe allows you to monitor vapor and liquid pressures, while the WPC2 wireless pipe clamp probe measures vapor and liquid temperatures. All these parameters can be conveniently accessed and monitored via Bluetooth through the UEi HUB app on your smartphone or tablet.
What's in the UEi HUB8 Kit?
The HUB8 smart refrigeration testing kit includes the following:
Everything you see in the HUB6 kit,
a wireless vacuum gauge probe,
wireless outside temperature probe,
and a 45-degree coupler.
As an HVAC technician or contractor working with refrigeration systems, you understand the importance of reliable and efficient tools to streamline your work. What sets the HUB8 kit apart is its advanced wireless temperature probes and vacuum gauge, which seamlessly integrate with the accompanying app. This powerful combination enables real-time calculations for target superheat, evacuation, and rise tests, empowering you to troubleshoot and accurately diagnose issues. Simply connect your smartphone or tablet via Bluetooth to access these features and unlock a new efficiency level.
Save on UEi HUB Smart Refrigerant Testing Kits
PlumbersStock has all the HVAC tools and supplies you need, whether you are a homeowner or an industry professional. Take advantage of our discount pricing and a huge selection of name brands you both know and love. If you have trouble finding the right part, do not hesitate to contact us. You can also learn more at UEITest.com.