One of our favorite brands at PlumbersStock is Green Mountain Grills. Several of our employees have pellet grills, so we trade recipes one with another, and everybody enjoys delicious company cookouts. That's why we are so excited to announce a deal that is exclusive to the web with this new Davy Crockett Smoker Grill bundle (DCWF-WEB). This is a portable Davy Crockett Pellet Grill starter kit, and it's WiFi-enabled, so you can monitor temperature and change it, using your smartphone. We'll get more into the features later, let's talk about what's included. You get everything you'd expect from the standard stainless, WiFi Davy Crockett (DCWF), plus:
a cover for protecting your grill
a Green Mountain Grills rub
8lbs of gourmet wood pellets
freight shipping included in price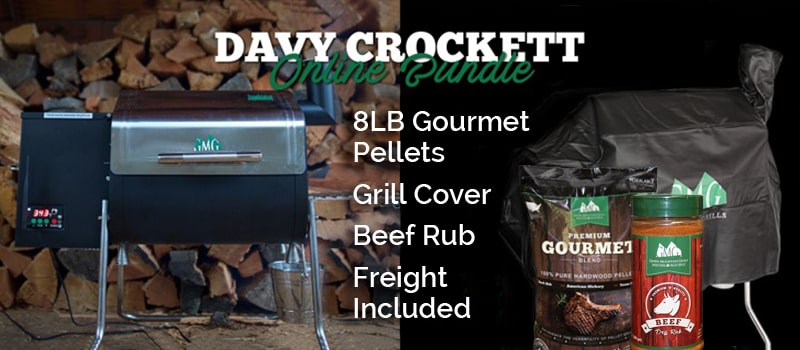 This will make a great Father's Day gift for any Dad.
Why Buy a Portable Grill?
The Davy Crockett grill is smaller (219 square inch cooking surface) than other options from Green Mountain Grills (not quite large enough to do a standard size brisket), so it's important that you choose the right smoker for your needs. If you plan on doing 95% of your grilling in your back yard, then go with a larger smoker. If you do a lot of picnics or tail-gaiting events, then you need a portable grill. It's only 57 lbs and they've designed it so that it's not an awkward carry.
Davy Crockett Pellet Grill Starter Kit Features
As previously mentioned, the grill is WiFi-enabled. We love smart home features. They make life so much easier. One nice use for the technology is that you can work in the garage while monitoring a grill that is located on the other side of the house.
The Davy Crockett automatically maintains temperature. This is made possible by the hopper, which can hold up to 9 lbs of wood pellets.
The stainless steel lid prevents warping
For your convenience, the legs fold up and work as handles. Easy to set up, take down, and transport.
Use the meat probe to monitor the internal temperature of meats from the digital readout (or your smartphone).
Two-year limited warranty
Why Buy a Pellet Grill?
Slow-cooking meat with a smoker/pellet grill is one of the easiest and most effective ways to ensure a tasty, juicy finished product, whether you're making chicken, pork, or steak. Smoking with wood chips is tedious, and with pellet grills like the Davy Crocket, the hopper is filled with wood pellets that are automatically pulled into the firebox with an auger. You don't have to constantly worry about maintaining temperature manually, the machine does the work for you.
I bought my Green Mountain Grills Daniel Boone smoker in December. At the time, I was such a novice cook that I would rarely dare to serve guests steak. I had no confidence in my ability to consistently cook a decent one. Now, just five months later, I've had a handful of people tell me the Hawai'ian ribeye I make is the best steak they've ever had. Here's the recipe, if you're curious:
Hawaiian Ribeye Marinade
I need to give credit where it's due, I got the marinade recipe from @the_smokin_word_bbq on Instagram, though I've put my own twist on it. This will make enough marinade for about 4 big steaks: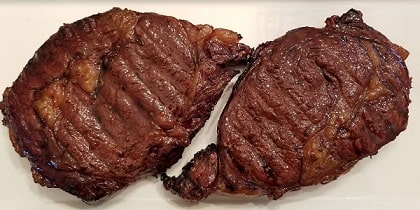 1 cup of low sodium soy sauce
2 minced garlic cloves
1/2 cup brown sugar
6 ounces of pineapple juice
1/3 cup of Apple cider vinegar
2 tsp of ground ginger
Bring all that to a boil, then let it cool off until it's safe to put in a large plastic bag with your steaks. You should be able to fit two steaks (side by side, not stacked) in one bag. I recommend letting them sit in the fridge for 3 days (flip them over several times a day). If you only have 1 day for it to marinade, you're still going to love the flavor.
How to Smoke a Hawaiian Ribeye Steak
Pull the steaks out of the fridge and let them sit on the counter for 30-60 minutes before smoking them. I like my steak medium-rare, so I cook at 220 degrees and once the internal temperature reaches 125 (it usually takes just under an hour), I pull the steaks off the grill. Either warm up the Davy Crockett pellet grill starter kit to 450 degrees or turn on a gas grill (you can also use a stove and skillet) to sear the steaks. Typically when cooking a steak, you would start with a sear, but on a smoker with this marinade, it tastes better this way. The sear should only take a minute or two on each side. It takes a few minutes to get the temperature up to 450, so I cover the steaks with foil in the meantime.
Serve with fresh-cut pineapple as a side. Leave the A1 sauce in the fridge (or better yet, at the market). If you want an endless amount of wisdom on this topic, check out our friends over at HeyGrillHey.
Save on the Davy Crockett Pellet Grill Starter Kit Online Bundle
Hurry and get this deal while it lasts, it's not guaranteed to be around forever. You will love cooking with your smoker, and your friends and family will be super impressed by your skills. If you have any questions about this deal, please do not hesitate to contact us. We have lots of fun solutions for outdoor cooking, so please take the time to look around.
by Nathan Baker