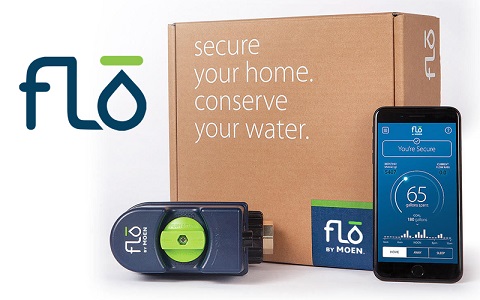 The new Flo by Moen smart home water monitoring system and leak detector is an excellent solution for homeowners who are looking for peace of mind. The Flo by Moen Leak Detection Valve is great for tracking your water usage so you can change habits to save on utilities and lessen your environmental impact, but maybe the best benefit is that you can catch leaks before they become disasters. If you have a vacation home, a cabin, rental properties, or you're just somebody who goes on long vacations, this is a great way to stay on top of potential plumbing problems.
How Does Moen Flo Work?
It's really simple, Flo by Moen is installed on the main water supply line so it can track all usage. It connects to your WiFi, which allows you to monitor it from your smartphone (so if you are installing it in your mountain cabin, remember, you must have an internet connection). Because everything is controlled and monitored at the source, it doesn't matter if it's a toilet, shower, faucet, water heater, or pipe that is the problem, Flo has you covered. If the device observes any unusual behavior it will send alerts to your phone and if you delay in responding, it is smart enough to shut off the water supply automatically. Flo by Moen is able to accurately measure flow, pressure, and temperature with three sensors.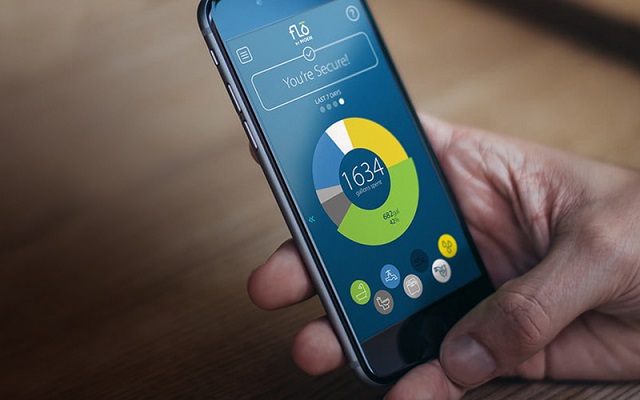 What Makes Flo by Moen the Best Consumer Option?
There are other leak detection systems on the market, but most water meters have trouble detecting small leaks. The problem with relying on a solution that small leaks can become big problems. If the leak occurs behind walls, you could be looking at major mold issues. Aside from that, small drips can account for thousands and thousands of gallons of water over the course of a year. This is why the fact that Flo by Moen monitors water pressure is such an important component of its capabilities.
Moen calls this proprietary technology MicroLeak, and it's based on the same idea behind the EPA's WaterSense program, which certifies leak-free properties through rigorous pressure-loss testing (as opposed to via a water meter). Not only does Flo by Moen send your phone alerts, but it will also give you troubleshooting tips to help you isolate the source of any potential leaks.
What Are the Installation Requirements?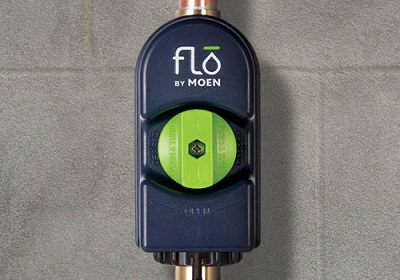 Most homes are going to meet the technical requirements for installation. To complete the install, you must have (1) an above ground (or at least accessible) main water supply line that is no larger than 1.25″,  (2) a standard power outlet, (3) a smartphone, and as mentioned (4) you need WiFi. Your purchase will come with:
Flo by Moen device
Threaded brass tailpieces
Power supply
Spare O-Rings
Spacer
Hex key
QR code card
Moen recommends that your Flo device be installed by a licensed professional, but many homeowners are very experienced do-it-yourselfers. Nobody is going to stop you from trying your hand at it.
What Are the Features?
The mobile app offers notifications in real time about water usage. It can send you texts, emails, or even call your phone.
Goal setting features will help you to reduce your usage.
With remote shut-off, you can control your water from anywhere in the world.
Automatic shut-off protects you when you don't have access to your smartphone.
Proactive 24/7 monitoring with preventative alerts to avoid catastrophic damage.
MicroLeak technology performs daily tests to ensure there are no issues with your plumbing.
You can customize alerts and notifications so that you get the right amount of communication from your Flo by Moen device.
Specs
1.90lbs / 0.8kg
iOS and Android compatible
Integrates with IFTTT, Amazon Alexa, and Google Assistant
WLAN Connectivity / IEEE 802.11bgn, 2.4 GHz frequency
Powered via plug-in AC to DC transformer
Power Supply: 12 VDC via 100-240V – 50/60 Hz switching type
Operating Conditions
International Protection Marking IPx5 Rating
Min temperature: 0°C / 32°F
Max temperature: 50°C / 122°F
Maximum ambient temperature: 140°F
Water-Resistant
What Is FloProtect?
You can get a subscription to FloProtect which will guarantee users a reimbursement up to $2,500 if you Flo by Moen fails to protect your home from water damage. To sign up, click here. You also may be eligible for insurance savings when you install Flo by Moen in your home. If you go to meetflo.com, you will find a list of insurance companies that offer customers a discount.
Save on Flo by Moen with PlumbersStock
It doesn't matter if you're in the market for Moen fixtures or new smart home technology, PlumbersStock has a great selection of the best products on the market at great low prices. If you have any questions about Flo by Moen that we didn't answer here, please don't hesitate to contact us. You can leave a comment below, call us, email, or you can visit our online home improvement store and use the chat feature in the bottom right hand corner of each page.