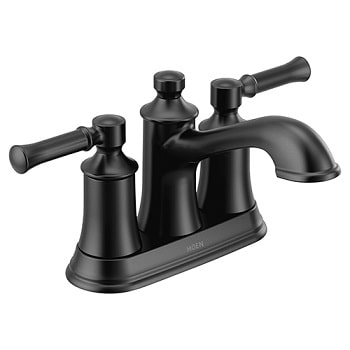 One of the most popular bathroom collections here at PlumbersStock is Dartmoor by the clever engineers at Moen. As the manufacturer explains it, In scale and in style, the Dartmoor collection of bath faucets and accessories is designed to delight. A gently flared spout is generously sized, adding beauty and function at the sink—sculpted handles and finial detailing create a tailored look that's thoroughly classic.
We are pleased to announce the arrival of Moen Dartmoor in matte black. It's a truly stunning finish perfect for accenting a beautiful series of fixtures, parts, and accessories. Mark your calendar; the new finish options will be shipping on January 1st, 2021.
Matte Black Dartmoor Lavatory Faucets
If you're familiar at all with the collection, then you probably know there are two different faucet styles from which to choose, widespread and centerset. Both are two handle configurations.
Widespread installations are always a great way to make your bathroom sink pop. You may not have space or configuration for widespread, and an installation with 4-inch centers is typically less of a hassle. Both faucets operate at just 1.2 GPM and ADA-compliant lever handles.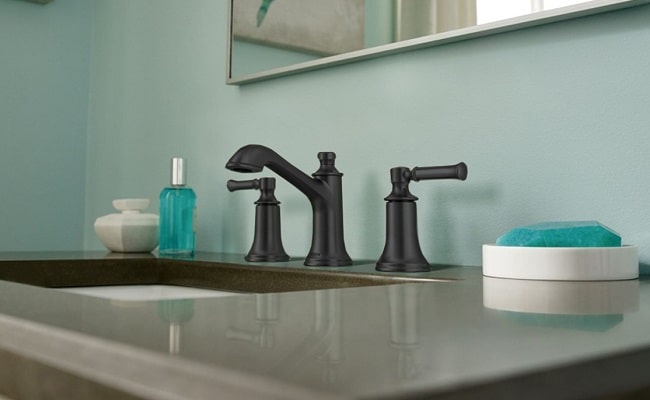 Matte Black Dartmoor Tub & Shower
There is a shower faucet design with three different models, a tub/shower design with three different models, and last but not least, there is a Roman tub design.
The rainshower style showerhead with Eco-Performance operates at 1.75 gallons per minute. It is worth the extra money because you will love your shower, you'll save on utilities in the long run, and you'll help conserve. For reference, the standard showerhead operates at 2.5 GPM.
Valve Trim
The valve trim is never the sexiest part of the installation, but it is the most important. After all, the valve only trim allows you to turn the water on and off. Here are the matte black Dartmoor trim options:
If you want to learn more about the new Moen M-CORE valve system, we have many resources. Moen is truly outsmarting the competition.
Dartmoor Accessories
And what matte black bathroom suite wouldn't be complete without matching accessories? Get your master bathroom completely tricked out with the following add-ons:
That'll have you all covered from wall-to-wall in your bathroom with stylish matte black.
Save on Moen with the PlumbersStock Experts
No matter what you need, we offer great prices. Moen does hold us strictly to MAP guidelines, which means we cannot advertise below certain prices. However, we are happy to charge below those prices. If you log into PlumbersStock, you will see special prices that we cannot advertise unless you are logged in. If you are a contractor who buys in bulk, or even a homeowner doing a big update, you can contact us about special deals so that you can save and we can do more business. Everybody wins, but you have to reach out! Enjoy the new Moen Dartmoor bathroom suite in matte black!