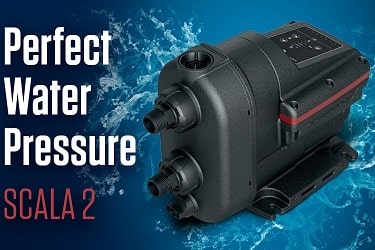 Spring 2022 Update:
Grundfos has now released the SCALA1. if you want to check that out or learn all about the differences between SCALA1 and SCALA2, we have the resources for you.
Original blog post:
The latest and greatest in residential pressure boosting pumps is now officially the SCALA2 series. Our customers are very familiar with Grundfos. Though SCALA2 hit the market a few years back, many customers remained dedicated to the older MQ3 series for its reliability. So how does the SCALA2 vs MQ3 series measure up?
SCALA2 did have a few manufacturer flaws (more on that later), but they've now been fixed, and it is the superior pump. They have made it easier to meet the variable demands of your plumbing system while delivering the reliability and integrity you expect with Grundfos engineering.
When Will Grundfos Phase Out MQ3?
You could say that it's already begun and probably will be complete in June. For customers who want to continue buying the MQ3 series, PlumbersStock will carry it as long as we can because we know plenty of people will still be looking for it. Here are the MQ3 models in question:
115v MQ3-35 3/4 HP booster pump (all sold out)
230v MQ3-35 3/4 HP booster pump (all sold out)
115v MQ3-45 1 HP booster pump (all sold out)
230v MQ3-45 1 HP booster pump (all sold out)
You no longer have to worry about horsepower when buying a residential booster pump. SCALA2 is built to meet your water flow demands. It ramps up and down when it needs to with its constant pressure system (more on that in a second). Here are the SCALA2 models in question:
Grundfos SCALA2 vs MQ3
Both models share many of the same standard features that you'd expect, like dry run protection and a max operating ambient temperature of 32 to 113-degrees Fahrenheit. Where they differ is what really matters. The SCALA2 is as quiet as a modern dishwasher, operating at 47 dba. Certainly, the show-stopper with SCALA2 is the intelligent pump technology that ensures perfect water pressure automatically. It works much like a variable frequency drive (VFD). The versatility ensures you have the machine you need. Remember that no matter what you want, PlumbersStock has the best prices on all kinds of Grundfos pumps.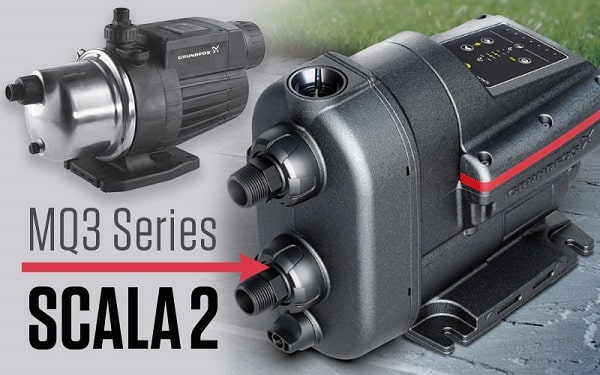 If you compare the specs on the 115v SCALA2 to the 115v MQ3, you will see a lot of similarities and a few important distinctions:
SCALA2 = rated head of 88.6 feet, max operating pressure of 145 psi, and max liquid temperature of 113-degrees Fahrenheit.
MQ3-45 = rated head of 75.5 feet, max operating pressure of 109 psi, and max liquid temperature of 95-degrees Fahrenheit.
Last, but not least, the engineers at Grundfos have been able to design more user-friendly controls and an easier installation process with the new SCALA2 series.
What Was the SCALA2 Recall About?
Back in 2019, Grundfos issued a recall of models within the PC codes of 1603 and 1901*. The issue was leak failure. It's hard to say how widespread the issue was, but Grundfos advised/requested that if you had already installed the pump, then to keep it in place. Not all models were failing, but enough of them did that Grundfos reengineered the SCALA2.
*Signifying they were manufactured between the 3rd week of 2016 and the 1st week of 2019.
Save on Booster Pumps at PlumbersStock
Now that you know all the ins and outs of SCALA2 vs. MQ3, you're ready to make a purchase. No matter which pump you choose, you can save at PlumbersStock. We have all kinds of booster pumps that will have you covered whether you have a house or a duplex. If you are buying in bulk, either because you are a contractor or are doing your own remodel, know that you can save even more with PlumbersStock if you contact us directly about special pricing.