2022 update: check out the new Paterson smart faucets!
Fall 2019 Update: Moen has added a few new fixtures to this popular collection. Like the rest of the collection, each model comes in chrome, Spot Resist stainless, and matte black. Check them out:
Original spring 2019 release: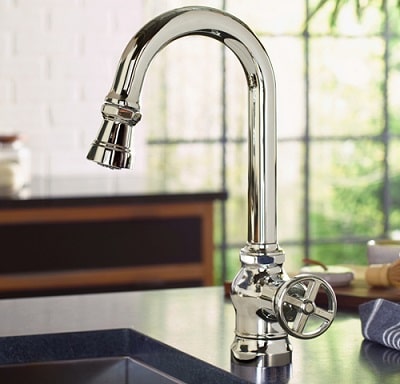 We've got another exciting Moen release here at PlumbersStock. The new Moen Paterson kitchen faucets will have you set up for your main kitchen sink and bar sink, with beautiful designs and useful functionality. Moen explains the design: The faucet's design brilliantly combines everyday industrial components – such as metal wands, bolt-inspired accents, and a secondary, optional spoke-and-wheel handle design – into one distinctive style. That's right; each Paterson faucet comes with an option to use the wheel handle, which is very trendy right now.
There are two unique models in the collection, and three finishes for each model. The Paterson kitchen sink faucet is available in:
As mentioned, each of them has two handle choices (lever and wheel). If you want a matching fixture for your bar sink, then you will want to get your hands on one of these. To be clear, the bar faucet does include the pulldown feature:
Moen Paterson Features
In the words of Ann Pringle (one of Moen's product managers), "Industrial chic refers to an aesthetic that derives its inspiration from urban architecture, and Moen is truly embracing this trend with the unique design of Paterson, which was named after the first industrial city in the U.S."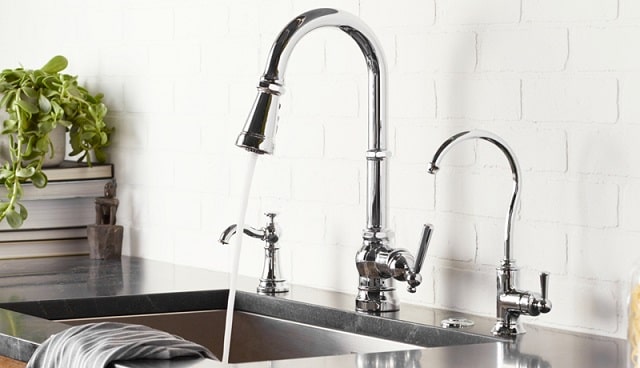 Moen Paterson kitchen faucets all deliver on a powerful flow rate of 1.5 GPM (gallons per minute). Also, they comply with standards set about by the Americans with Disabilities Act, and they also meet standards set by ab1953 (California) and s152 (Vermont). If you worry about longevity, Paterson faucets come with a lifetime limited warranty.
Reflex System
With pull-out functionality, it's nice to have a self-retracting hose because it streamlines cooking and cleaning. Moen engineers have spent considerable time perfecting this technology so that you will be sure to enjoy secure docking, along with this feature.
Power Boost Spray Technology
Power Boost technology famously cleans 50% faster than standard Moen faucets. The faucet design allows you to get more pressure out of a more conservative amount of water.
Spot Resist Finish
If you hate having your faucet has water spots and fingerprints, then you will love the Spot Resist finish.
1255 Duralast Cartridge
Moen is known for simplified solutions, and that's precisely what you get with Paterson faucet cartridges. The 1255 Duralast is a spectacular design, built to last.
Duralock Quick Connect System
The Duralock Quick Connect System is a game-changer. Whether you are an industry pro or it's your first time installing a faucet, you will appreciate how easy it is. You enjoy peace of mind knowing the job is done when you hear it click. No guesswork.
For more information, watch this Duralock video created by Moen.
Buy Moen Paterson Kitchen Faucets Online
If you're going to get a Paterson faucet, why not take advantage of our prices here at PlumbersStock.com? If you have any burning questions about this collection, or anything else plumbing or Moen-related, please contact us. You can do that by leaving a reply below, call us (the old fashioned way), email us, or go to the main site and use the chat feature. Whether you want a kitchen sink faucet or need a prep faucet, PlumbersStock has the perfect solution for your update.