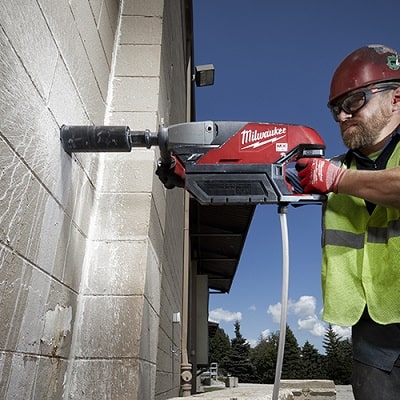 You've never seen anything quite like the new Milwaukee MX FUEL battery system! If you are a professional plumber, contractor, or just a serious DIY type, you are probably in the market for a powerful cordless solution for the biggest jobs. If this is you, then you should buy MX FUEL tools. We're talking heavy-duty tools here, and we'll get to them in a minute. One great thing about MX FUEL is that Milwaukee designed the system with entirely interchangeable batteries.
What sets the MX FUEL series apart (and this is true of any Milwaukee FUEL series), they come equipped with POWERSTATE brushless motors. According to the manufacturer, this means the equipment is engineered uniquely for the demands of each and is optimized for the perfect combination of performance, portability, and productivity.
MX FUEL Batteries
There are two different types of MX FUEL battery. The Milwaukee MXFCP203 is commonly referred to as just CP203 and takes 45 minutes to charge. The larger Milwaukee MXFXC406 is commonly referred to as XC406 and takes 90 minutes to charge. Pick your poison. In either case, you are getting a quality, powerful REDLITHIUM battery. For more information on the batteries, check out this MX FUEL battery buying guide.
14″ MX FUEL Cut-Off Saw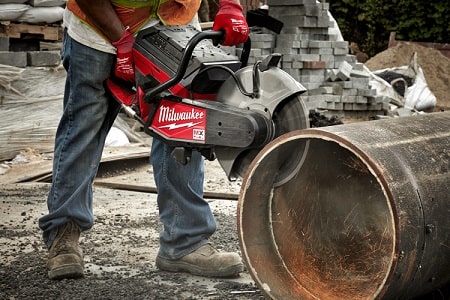 The Milwaukee MXF314-1XC offers a full 14″ cutting capacity. Your purchase includes a contractor bag, hex key, the saw, one MX FUEL REDLITHIUM XC406 battery, a Quick Connect Collar, wrench, and charger. If you are working with two XC406 batteries, you'll get enough run time to cut:
8″ ductile iron pipe 8x
14′ of concrete at a depth of 5″
8″ PVC pipe 52x
106′ of corrugated deck
8″ cinder block 22x
Or try 8″ cast iron pipe 10x
Demolition Hammer
We're just going to come right out and say it; the Milwaukee MXF368-1XC is badass. Your purchase includes a cart, three chisels, the breaker, one MX FUEL REDLITHIUM battery, and a charger. If you are working with one XC406 battery, you'll get enough run time to:
Trench 12″ x 6″ at a 40′  length
Demo 2 sidewalk slabs (5′ x 4′ x 6″)
Handheld MX FUEL Core Drill
You can either get the Milwaukee MXF301-CP drill or try the MXF301-2CXS drill kit w/ stand. Either option gives the power to core holes 6″ deep into reinforced concrete. The drill (pictured at the top of this blog post) comes with the one CP203 battery pack, and with that, you have enough run time to:
core 3″ holes into block 9x
core 3″ holes into 6″ concrete 5x
Rocket Tower Light and Charger
Not only will this Milwaukee MXF041-1XC supply you with the light you need, but it also serves as a charging station on the job. The motorized mast can extend up to 10′ but can be transported at a convenient length of 44″. There are three light modes (high, medium, low).
MX FUEL Sewer Drum Machines
There are two different options here. You can go with the MXF500-1CP or upgrade to the MXF501-1CP, which includes the RAPID STOP feature and POWERTREDZ lift-assist technology. Both offer a drain line capacity of 200′.
Milwaukee MX FUEL Battery Chargers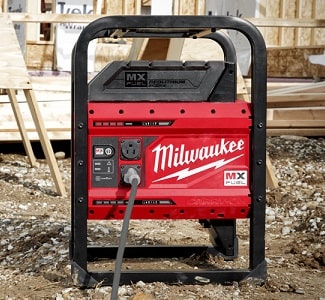 To keep your batteries juiced, you're going to need a charger. A lot of the tools in this series come with a battery and charger, but you may have multiple batteries that need simultaneous charging. This is the case for most industry professionals. If this is you, be sure to pick up a Milwaukee MXFC charger or try the MX FUEL portable power supply.
Remember, the batteries are interchangeable, so you can conveniently swap tools, batteries, chargers, etc. Eli Whitney was sure onto something when he came up with the revolutionary idea of interchangeable parts.
Save on Milwaukee Tools with PlumbersStock
When it comes to power tools, you want a trusted brand. No matter what you need, choose PlumbersStock for great prices on the best tools. If you have any unresolved questions about MX FUEL batteries, please don't hesitate to leave us a comment or chat us up from the PlumbersStock store. We fully expect Milwaukee to expand this series; this is only the beginning. Check back in the future for product line updates.