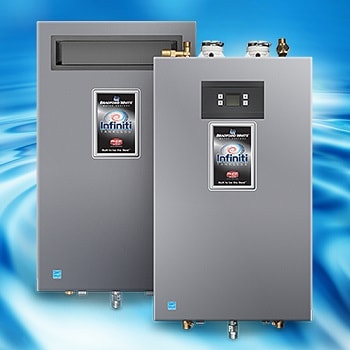 If you're one of the many Americans considering a switch to tankless water heaters, then you should be familiar with this innovative, new Bradford White Infiniti K series. The manufacturer is billing it as the smartest on-demand water heater on the market. Here are the four focus products in this release:
If you are wondering how many BTU's you need, think about your household's usage. The 160k BTU water heater offers a 45-degree temperature rise at 7 gallons per minute. The typical faucet operates at about 1.5 GPM. If you have two faucets running, the washing machine, and dishwasher, you'd probably be fine. So if you have a big family, you might need to upgrade. Go with the 199k BTU unit, which offers a 45-degree rise at 8.7 GPM. The Infiniti K series is available in natural gas only.
Infiniti K Series Features
Maybe the most significant selling point with the Energy Star-qualified Infiniti K series is that it offers efficiency up to .96 UEF (uniform energy factor). It is made to operate efficiently, even at low flow rates. If you can believe it, your water heater activates at an impressive 0.45 GPM. It also offers best-in-class modulation (22:1 turndown). Did we forget about the warranty? You get a generous 15 years on the heat exchanger!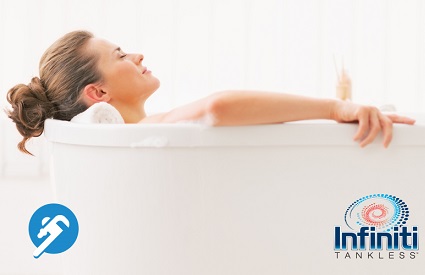 Another best-in-class feature, the Infiniti K venting length capability, is a game-changer. You can vent with either a 2″ or 3″ PVC pipe (or poly pipe) to a whopping length of 280′. Bradford White realized that the easier they make the installation process, the more water heaters they sell. That's one reason why they came up with the self-calibrating gas valve and fan. It will automatically configure air-to-fuel ratios for flue length and altitude.
Set the temperature between 100 and 140-degrees Fahrenheit with the easy-to-use built-in digital control. It comes with wiring for an external recirculation pump (sold separately). There is an inlet water filter with easy access. If that's not enough, they offer built-in freeze protection too. Here are a few other features to consider:
STEADISET
This innovation provides consistent temperatures without the use of a buffer tank. When you turn on the hot water, you can get a little pocket of cold water from the tap. Infiniti K's active bypass virtually eliminates that pocket. The elimination of the buffer tank allows for a very compact design, which means you have fewer installation restraints to worry about. That's not the only benefit of having no buffer tank. It also reduces scale build-up.
Scale Reduction Technology (SRT)
In comparison to conventional tankless water heaters, Infiniti K provides better long term performance. Bradford White calls this engineering initiative scale reduction technology. It means the Infiniti K series will reduce your maintenance costs, and simultaneously extend the life of your installation.
One last thing, check out this youtube video by Bradford White.
Buy the Bradford White Infiniti K Series at PlumbersStock
Get a great price on your new tankless water heater here at PlumbersStock. On-demand technology is the future. You will save in the long run and do your part to conserve by installing a Bradford White Infiniti K series water heater. If you have any questions remaining, please leave us a comment below. If Bradford White doesn't do it for you, check out our most popular model from Noritz, the natural gas-fueled EZ111DV-NG.
We'll give the manufacturer the last word. As Bradford White puts it, the Infiniti K Series is built for the pro. We've made it easy to install with convenient top connections, built-in flush ports, and 1/2″ gas pipe capabilities up to 24'. No combustion analyzer is needed to install.