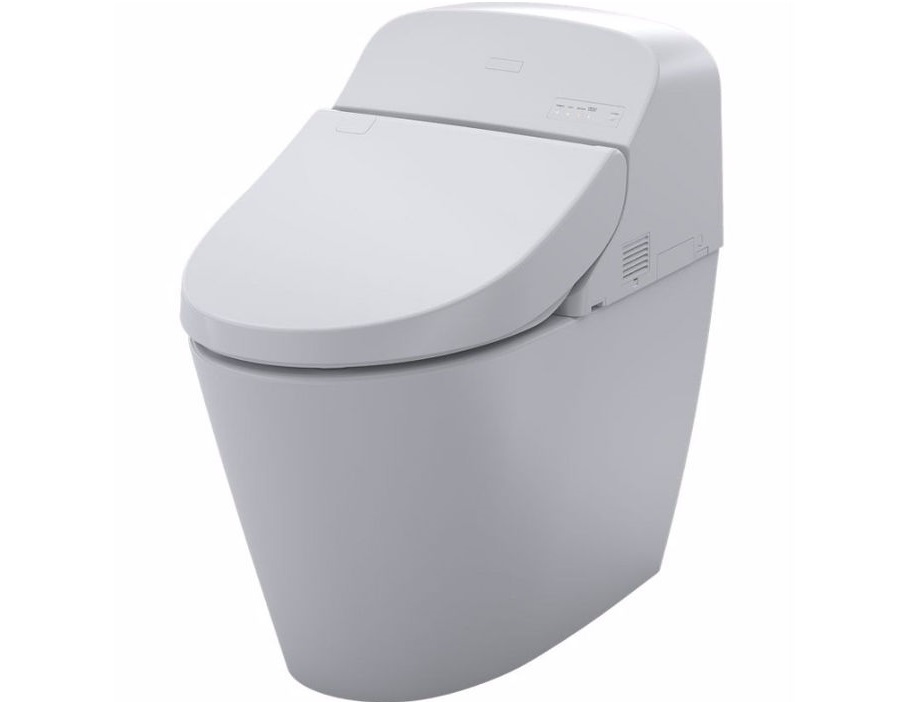 With over 40 million Washlets sold, TOTO has produced one of the best selling bathroom solutions the industry has ever seen. On the heels of this success, they are replacing the extremely popular TOTO G500 with the new TOTO G400 Washlets. In case you are unfamiliar, Washlets are the most popular electronic bidet seats on the market.
Consumers who are sad to see the G500 go won't be depressed for long, the new G400 is loaded with the best features from the original. As you'd expect, TOTO has taken this fantastic bidet seat and improved on it with an amazing new feature called Premist. With Premist, the bidet seat will lightly mist the bowl, which makes the surface wet and slippery, and much better at eliminating waste. In fact, the design has proven to eliminate waste 80% better than a dry bowl.
Pictured is the TOTO MS920CEMFG#01 Dual-Max G400 Washlet with Integrated Toilet.
TOTO G400 Washlets Are Innovative
Sensor operation – for crying out loud, the toilet seat senses the user is near and opens, closes, and flushes automatically. How cool is that? It's an underrated feature because it takes your bathroom hygiene to a whole new level. After all, who would want to touch the toilet with their fingers if they didn't have to?
Touch pad control – program user preferences so that you get customized usage. It's very user friendly and easy to manage. The memory works for two different users, so it's perfect for your master bathroom.
Flushing technology – of course it utilizes their patented Dual-Max 3D flushing system, but it also allows the user to select the volume used to flush the toilet (0.9 GPF vs 1.28 GPF). That difference can add up to lots of money and water saved over time. Our customers who put a premium on reducing their impact on the environment love this feature!
Washlet feature – as the most innovative bidet seat in the business, the cleaning feature is what really sets it apart. If you haven't used one before, you may not understand how important this selling point is, but the cleansing wand always delivers warm water. It then uses warm air to dry the area the wand has cleaned. It sounds weird, but you'll love it!
Self-cleaning feature – With the patented CeFiONTect glaze, this toilet will deliver superior self-cleaning results. The glaze creates a slippery surface that is very easy to manage. It cleans while it flushes. As mentioned, the pre-misting feature will work in concert with this glaze to make your life easy.
Design – the futuristic look will make a great addition to any bathroom and the skirted design will cover the trapway, and maybe best of all it's easy to keep clean.
Save on TOTO G400 Washlets at PlumbersStock
As you'd expect, we have great prices on TOTO products, and that includes the new G400 Washlets. If you are wanting to get the tried and true G500, you had better act fast while they are still in stock. Once they are gone, they are gone forever. We also carry two similar integrated bidet/toilets from other brands: the American Standard INAX SATIS and the ProStock PSBTWE1000.