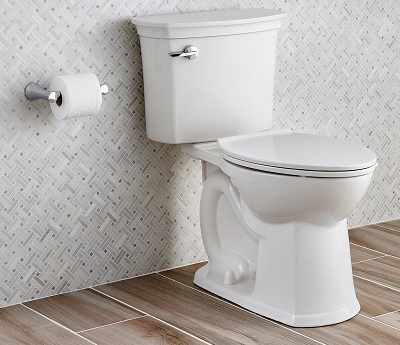 The future is here and it's cleaner than the past! Thanks to the new ActiClean self-cleaning toilets by American Standard, you now have a lot less to worry about in terms of bathroom maintenance. Maybe you have seen the commercial they have running? The in-laws stop by unexpectedly and the couple has to scramble to make the house presentable. They don't have to worry about the toilet because ActiClean technology is taking care of that for them.
Customers can find all the various parts and accessories here at PlumbersStock. The two most commonly sought out items in this product line are:
There are currently other ActiClean toilet model numbers to choose from, but they are all the same toilet. No matter what kind of toilet you are looking for, we have it. Please contact us if you have trouble locating the right toilet for your bathroom update.
ActiClean Toilet Features
Customers predictably find the most interesting feature here to be the fact that these toilets are self-cleaning. This is made possible with a few different components:
The Quick Clean Cycle is a one minute cycle that users are encouraged to run in-between deep cleanings (regular maintenance). 
There is also a Deep Clean Cycle which thoroughly cleans the inside of the toilet bowl in approximately 10 minutes. 
Triple Power Cleaning Action cleans and removes stains even under the rim with the use of VorMax Jetted Scrub, ActiClean Toilet Cleaning Solution, and the Smooth CleanCurve Rim.
The surface of the toilet with an EverClean glaze finish which is easy to keep clean.
The entire system is powered by 4 AA batteries that will give you up to one year's worth of battery life.
The seat is easy to remove, for quick cleaning.
The handle is chrome-plated.
You get everything you need for toilet installation.
There is a lifetime warranty on chinaware, 10 years on mechanical parts, 1 year on electronics, and 1 year on the seat.
The toilet operates off 1.28 GPF and moves about 2.2 lbs of waste in just one flush. This means it is a high efficiency toilet that meets WaterSense criteria set by the Environmental Protection Agency. This flush technology is referred to as VorMax by the pros at American Standard.
ActiClean Cartridge Details
This cartridge is compatible with the 714AA154 as well as the 214AA157S and 714AA151, which are all the same toilet, they just have different MPN's for manufacturer tracking purposes. The manufacturer states:
If used as directed, each cartridge will last up to 9 weeks (based on a usage of 1 Quick Clean and 1 Deep Clean per week).
Customers might as well buy in bulk with that kind of shelf life. 9 weeks seems a little frequent, but when you do the math and calculate that you're spending about $1/week to avoid manually cleaning the toilet, you'll probably consider that winning.
ActiClean Commercial
Here is the aforementioned video, demonstrating what a useful innovation ActiClean self-cleaning toilets are:
Buy American Standard ActiClean Self-Cleaning Toilets
No matter what part you need, we have it. Remember, don't be confused by the ActiClean Toilet MPN's. The three MPN's at the time of this publication are all representative of the same exact toilet, all compatible with the same exact cartridge.