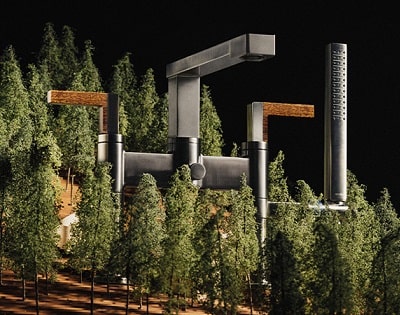 It's been a while since we've had an exciting release from Brizo. That's because one of their best teams of engineers has been working on something big for the last 5 years, and it was worth the wait. Wait until you get a load of these new Brizo Frank Lloyd Wright bathroom faucets, inspired by one of the great functionally artistic minds of the 20th century. The Frank Lloyd Wright collection has everything you need to complete your bathroom remodel with stunning fixtures.
These fixtures come in one of six different finishes: chrome, polished nickel, polished nickel/teak, Luxe nickel, Luxe nickel/teak, and Luxe steel (in order, pictured below). The links below point to the chrome version of each faucet, but we have all six colors from which to choose.
A note about the Frank Lloyd Wright collection: in some cases, there are models that straddle the line between the Kintsu collection and the Frank Lloyd Wright series, and this has created a little bit of confusion. For example, the Luxe steel tub filler accessory kit is MPN 695506-SL and is considered Frank Lloyd Wright, while the matching chrome version 695506-PC is considered Kintsu. If you can't find the FLW version of a model, it may be because it's labeled Kintsu.
Single-Handle Deck Mount Lavatory Faucet
The 65022LF faucet really stands out, moreso than most Brizo Frank Lloyd Wright bathroom faucets. This is a beautifully designed and functional faucet that will update the room with its fashionable sophistication. The laminar-flow water flow pattern comes out of the side of the faucet, and it is both ultra-modern and stylish. The hidden aerator ensures efficient water use without sacrificing performance.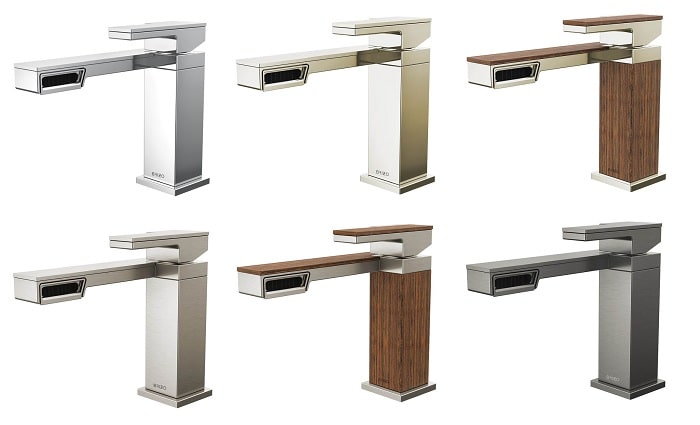 Single-Handle Wall Mount Lavatory Faucet
If you want something even more eye-catching, try the T65722LF wall-mount faucet. Elevate your bathroom style with this sleek Brizo lavatory faucet. The lever handle makes it easy to adjust the water flow, and the chrome finish protects the faucet from corrosion and wear. With its contemporary design, this faucet is perfect for a modern or transitional bathroom.
Widespread Lavatory Faucet
For a more elegant look, try the 65322LF-PCLHP widespread faucet. This deck-mount faucet features crisp, clean lines and a cantilever spout for a modern look. You must order the handles separately, which allows you to choose the style you most like. Most homeowners just go with the model from the same series, the HL5322-PC handles.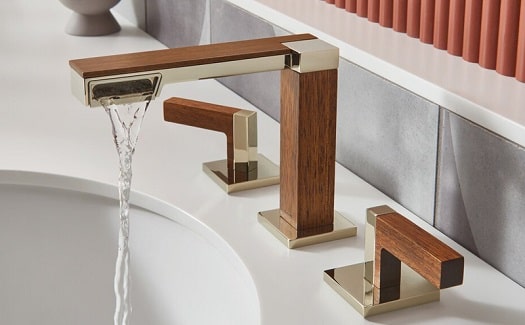 Two-Handle Tub Filler for Deck, Wall, or Floor Mount Installation
The T70322-PC tub filler trim is configured for Roman-style deck-mount installation and comes with a hand shower. This top-of-the-line bathroom essential is made from rust-resistant solid brass for long-lasting performance. This tub filler is ADA compliant, making it more convenient to use for those with physical limitations, and it's also EPA WaterSense certified to save at least 50% of water usage without sacrificing performance.
Shower Solutions
Let's cover some trim options, first. There are several options here, so be aware of all the functionality and handle differences before making a purchase.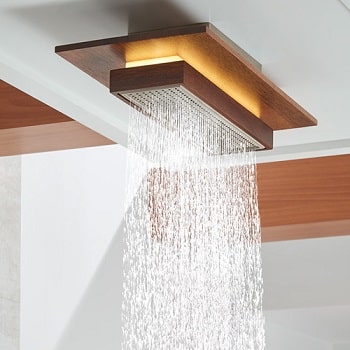 You've never seen a shower head like this before. The term raincan doesn't even begin to describe it. You can either go with the standard 2.5 gpm showerhead (81422-PC-2.5) or for about the same price, you can get the WaterSense labeled option (81422-PC) that operates at just 1.75 gpm.
That's not everything in terms of showering solutions, so be sure to browse through the lineup so you can see all that it has to offer.
Parts
There are other options for valve trim (Pressure Balance, Sensori), you can find diverter tub spouts, various replacement handles, and more.
Accessories
There are a variety of accessories, including:
8", 18" and 24" Towel Bar
Tissue Holder
Universal Flush Lever
Drawer Pull and Drawer Knob
Tub filler accessory kits
And more!
Save on Brizo Frank Lloyd Wright Bathroom Faucets
No matter what you need from the Frank Lloyd Wright collection, the residential bathroom experts at PlumbersStock have you covered. Did you know that PlumbersStock offers special member pricing? Manufacturers like Brizo do not let us advertise and list prices below MAP. However, we can list and sell to you at prices below MAP if you log in to the website.