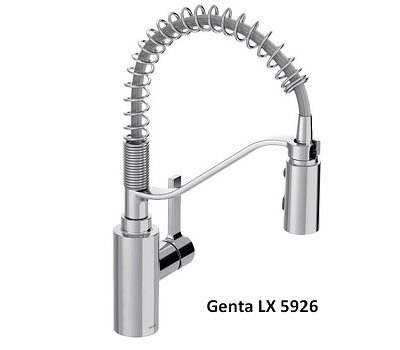 We are excited to announce Moen's new additions to their faucet gallery, the Genta LX and Belfield pre-rinse spring faucets. Moen is continuously expanding their brand to be more functional, sleek, user-friendly, and technologically innovative. These new models perfectly embody these notable traits. There is no better way to make your kitchen pop than a stunning faucet as the centerpiece, and pre-rinse spring-style faucets are all the rage in interior design.
What Are the New Genta and Belfield Models?
The Genta LX series has three new models and sports a modern look with its contemporary, curved edges.
The Belfield series has four new models. It boasts a detailed colonial style with intricacy, giving it a classic, timeless appearance.

Features
The one-handed lever handle makes it easy to adjust the water in terms of flow and temperature. With the power boost feature and an aerated stream, the faucets are ideal for everyday cleaning with an efficient but powerful stream. A simple press of a button activates Power Boost technology. Heavy-duty cleaning and faster filling are significant advantages. In addition, the pull-down hose is flexible and retractable with a docking arm. This creates smooth operation and easy movement, maximizing reachability in and around the sink. This optimizes water delivery in difficult-to-reach areas. It then retracts smoothly to its resting position.
Because of their immense size, traditional pre-rinse spring faucets have limitations when paired with shallow sinks, nearby windows, ledges, or overhead cabinets. These new models are perfect for smaller kitchens because of their compact design.
Buy Genta LX and Belfield Pre-Rinse Spring Faucets
Whichever faucet you set your heart on, you'll find the best price at PlumberStock. The new Moen pre-rinse spring faucets are in high demand. Due to their powerful functionality and compact design. If you need to order in bulk, contact us directly, and we'll work out a deal. Remember, if the gallery pre-rinse spring faucets aren't for you, we have a wider variety of Moen kitchen sink faucets. There is something for you here at PlumberStock. Order yours soon.