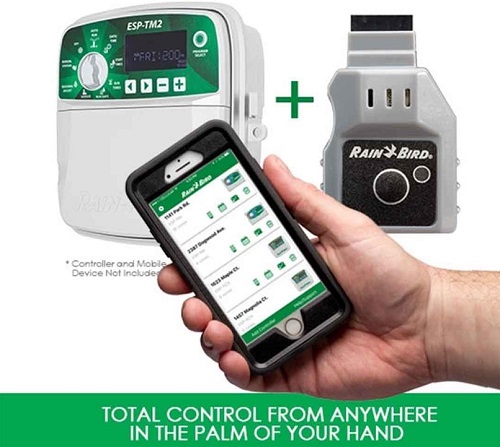 **2021 Update** there is a new LNK2WIFI module and you can learn more about it here with this LNK2WIFI product review.
Original article: Are you ready for the future of sprinkler system controls? If so, then you need to check out how the new Rain Bird LNK WiFi module is changing the game. Here's the hook: with this irrigation solution, you can control your system from anywhere in the world. You don't even have to plan ahead for a vacation. You can just manually operate your sprinklers from your hotel room in Maui, or your work conference in Des Moines.
To utilize this technology, you will need one or both of the following:
Rain Bird LNKWIFI Module (F55000) – you have to have this part. This WIFI module is what allows your controller to connect to the WIFI and, in turn, to your smartphone. It is compatible with three different series of controllers:

Rain Bird ESP-TM2
Rain Bird ESP-ME
Rain Bird ST8

Rain Bird 639340 WIFI Capable Replacement Panel – if you don't have one of the above models manufactured after November '16, you will need this supplementary faceplate to update your controller.

Check out this Rain Bird video for a basic rundown of the technology:
One thing you may not know about Rain Bird is that they were the originators of remote irrigation system access, more than 30 years ago. With the power of WiFi technology, they are taking their game to the next level. This technology has been tested in recent years, as it was only available to the most exclusive golf courses. Now it's been proven, and it's ready for residential applications.
How to Set Up the Rain Bird LNK WiFi Module
It's a pretty simple process. Follow these steps or check out this video.
Download the Rain Bird app on your phone.
Verify the signal strength of your WiFi by checking it on your phone while standing next to your controller.
Install the link module. The light on the module should start blinking.
Open the connection menu on your phone to find the Rain Bird network.
Add the controller to your app. It will ask you a few questions (like zip code). Enter a password for remote access security.
Connect the controller to the local WiFi network (before this step, you would have been accessing through a hot spot only – you need to complete this step to control it remotely).
(Optional) share access with others.
Program the controller.
Buy the Rain Bird LNK WiFi Module Online
As you've come to expect, PlumbersStock has great deals on Rain Bird products, and it's no exception with the LNK WiFi Module.  If you have any other questions about how to get this set up or how it works, please do not hesitate to contact us. You can do this either by responding to this blog post, or contacting us directly via site chat, email, or the old fashioned way, by phone.