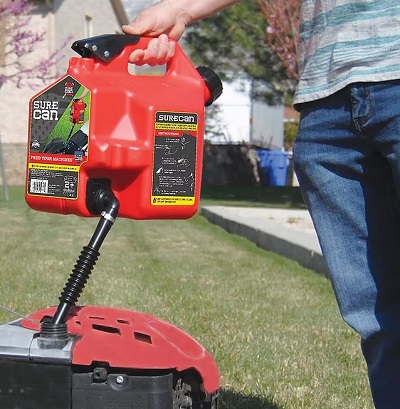 At PlumbersStock, we are so excited to be carrying SureCan gas cans and our customers seem to be happy too, because we can hardly keep them in stock. SureCan is a US-based manufacturer making waves because of how useful their product is. Before we get into the details, it needs to be explained in summary why this is such a popular solution. Essentially, these gas cans are spill-proof and child-proof, and they are so easy to use.
We love SureCan's company logo: Feed Your Machines. Here are the different options you can buy here for great low prices:
Notice that the blue option is for applications with kerosene (like lanterns, stoves, and other camping equipment as well as high output space heaters and forced air heaters). Also take note that there are two different sizes of red cans. And of course, yellow is the industry standard for diesel fuel.
How Do SureCan Gas Cans Work?
As mentioned, the process is very simple and prevents unnecessary spillage. It's easy enough that you could figure it out without reading these instructions, but nevertheless, here they are. Follow these steps to operate SureCan gas cans:
Pop the cap off your nozzle. The cap is the child-proof component on the gas cans.
Rotate the nozzle downward from the upright position. It rotates a little more than 180 degrees. This range of motion allows you to deal with the most awkward of access points on trucks, ATV's, etc.
Press the thumb trigger to open the valve in the gas can.
Now conveniently refill your tank without sloshing gas around.
Once you are finished, release the trigger and give it a few seconds (and maybe a jiggle) to clear the line of gas. Then rotate it back and cap it!
SureCan has made a video that demonstrates how the system works. You can click on any one of the gas links above in this post and see the video on the product pages.
More About Features
There are more unmentioned features, for example the handle provides a very comfortable grip, and there are grooves in the base of the gas can that make for a more secure pour. Also, the system is self venting for a smoother flow of fluid. These gas cans also come with a 1-year warranty.
As far as environmental compliance goes, SureCan gas cans are EPA, CARB, DOT, and UL Canada certified.
Buy SureCan Gas Cans at PlumbersStock
If you have any questions, don't hesitate to contact us. Please leave a comment below or hit us up the old fashioned way by phone, there is a chat feature if you go to the store part of our site, or email us. You'll have a hard time finding better deals on SureCan gas cans, so shop here and save big. We have all kinds of solutions for outdoor power equipment.
If you want to learn more, check out their website at SureCanUSA.com. They have helpful videos of, not only how the system works, but also walk-through videos for when you are replacing parts, like triggers and spouts.