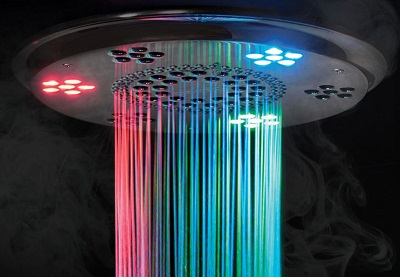 If you have been a PlumbersStock customer for a while, you may remember that we used to sell ThermaSol. They asked that retailers stop selling their product online for a time, but we are happy to announce that the ThermaSol Pro series is back! Online retailers have been given the go-ahead to list products again, so we are back in business.
As you browse our products, keep in mind if the listing says See Sale Price in Cart, it means we are offering a deal so good that we can't advertise it. Simply add the product to the cart to see the discounted price.
The different models within this series differ in that they are built for different sizes of space. For example, these are the most popular options:
If you don't find what you are looking for there, we have other options too, all the way up to a capacity of 850 cubic feet.
What Is the ThermaSol Pro Series?
Steam showers require the use of steam generators, and as the name suggests, the ThermaSol Pro series offers professional performance. With patented Smart Steam technology, which means your generator will operate more efficiently. For example, FastStart delivers steam in just a matter of seconds, as opposed to the minutes it can take with other solutions.
One issue with many steam generators is that they require cleaning, but ThermaSol engineers built in a PowerFlush system that automatically cleans the machine.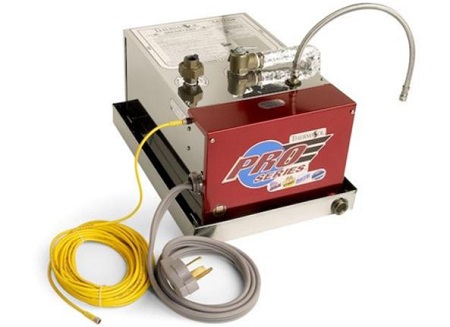 Part of what makes all this magic possible is that the heating element operates with low watt density, while the stainless steel offers long-lasting durability. Here are some other specs and features:
5-foot power cord (208-240 volts)
3-year warranty in-home warranty before the lifetime factory warranty
Datalink cable is watertight
Previously plumbed safety relief valve
Compatible with Solitude Wireless Module (WiFi)
Compatible with Serenity Light, Sound, Rain Head
Can be installed up to 50 feet away from the shower
CAN-bus networked system with intelligent two-way communication
And more!
The ThermaSol Pro series generators are 18.5″ x 13.75″ x 12″, so make sure you have enough space for them in your steam shower installation.
What Is SmartSteam?
As mentioned, this technology makes your unit operate more efficiently, saving you money, and helping you to conserve. Say, for example, that you have the ThermaSol Pro-140. That unit operates at up to 8 kilowatts to reach your set temperature. What SmartSteam does is once the temperature is reached, the unit will only use 2 or 3 kilowatts to maintain that temperature. For the record, the Pro-240 operates off 10 kilowatts and the Pro-395 off 12 kW.
More About PowerFlush
Typically, generators will just use gravity to drain, which does not get the job done. This is why it's so important to have a solution like PowerFlush. Water pressure is utilized to sweep the bottom of the tank, ensuring better automatic cleaning, ensuring a longer life. A bonus is that this method allows you to install it without the requirement that you plumb to a drain. This technology is better than an insurance policy! Don't mess around with hard water. It will ruin your generator if it's not equipped to handle it.
Steam Shower Kits
As you'd expect, ThermaSol steam shower kits are amazing, and they are on sale at PlumbersStock. A kit typically includes a steam shower head and a digital controller. You can get them with various features and in different finishes to match the hardware and fixtures already existing in your bathroom. Look for popular features, like memory settings, and are whisper quiet.
Buy ThermaSol Pro Generators at PlumbersStock
So what are you waiting for? These generators are amazing, and you won't find a better bang for your buck than here at PlumbersStock. It's easy to see why we are so excited about the return of ThermaSol to our online store. If you have any questions, please leave a comment below, or contact us via email, phone, or chat.
You can learn more about the ThermaSol Pro series and other products and technology at ThermaSol.com