April is here and almost gone! Now is the time for spring sprinkler maintenance! Nothing quite beats the convenience of having a well-designed irrigation system. Efficient lawn and garden watering will ensure the best results while helping to save money on utilities.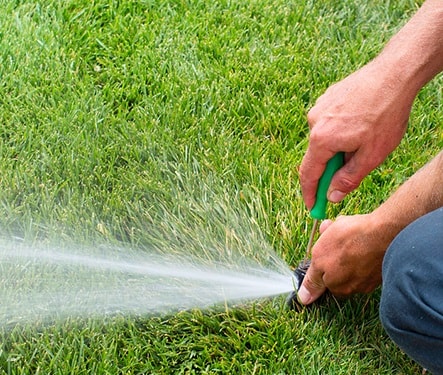 Here we will offer some simple tips to help you conserve while maintaining a greener landscape. Sprinklers should be checked and tuned up yearly for the upcoming watering season, and the timers/controllers must be reviewed and possibly reset at least every month, so you can make sure that they are working correctly in each zone. If your controller has a backup battery, we recommend that you replace it every six months.
Make Your Setup More Efficient
Tuning up your sprinklers is a great way to prevent waste. Not only that, but proper care and focus will enable you to custom-tailor your watering schedule to your landscape's needs. You want to ensure that water is applied uniformly to meet the needs of your plants and each type of soil. That attention to detail will help keep your lawn and landscape looking healthy and beautiful. It's a good idea to stay on top of things for several reasons, but one big one is that an overlooked cracked PVC pipe or fitting in your system can result in significant waste.
Check out this custom-made 4-valve Rain Bird manifold kit, only available at PlumbersStock! We have other configurations as well. Read more about them below in this post.
Ensure that the water from one sprinkler's head reaches the next sprinkler (with a 100% overlap in coverage). This is referred to as head-to-head coverage. In addition to ensuring proper positioning, check if the pop-up sprinklers are straight up and down or leaning to one side. You can correct them by removing soil from one side and filling in the other. As a general rule of thumb, you want your sprinklers perpendicular to the ground.
Spring Sprinkler Maintenance in 7 Easy Steps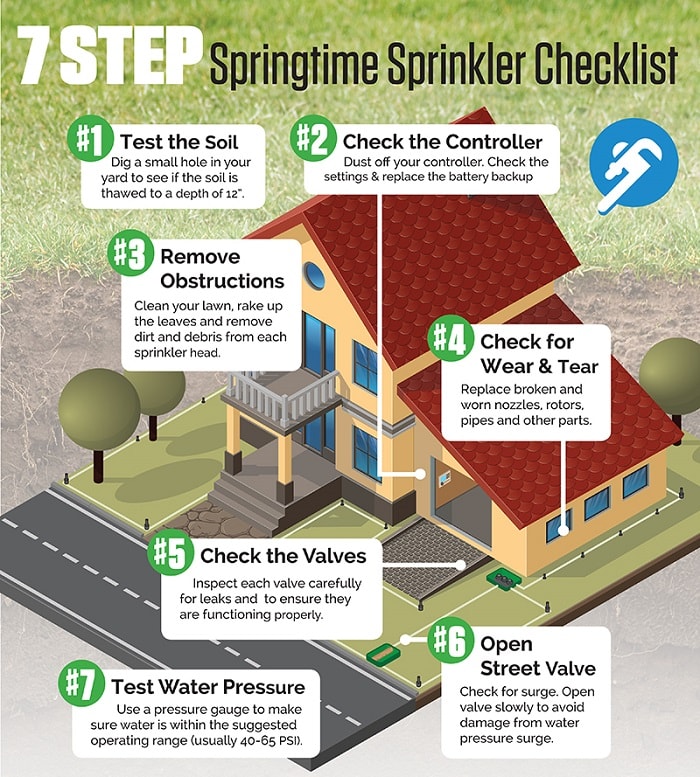 Test the Soil – Before you flush the sprinkler system, ensure that the soil beneath the lawn is frost-free, 12 inches deep. You can check that by using a shovel. If you find out that the soil is still hard as a rock, wait.
Check the Controller – Check the settings on your irrigation controller, make sure that it is programmed on the correct time and date, and schedule it according to the weather and the nearby watering schedule. The settings should match the watering needs of your landscape. Keep your eye on your lawn as you fine-tune the settings.
Remove Obstructions – Get rid of the rocks, dirt, sand, and other types of debris collected in the pipes over the fall and winter by flushing the system. These obstructions may block the even flow of water to your sprinkler heads, causing uneven distribution. You can do that by removing the nozzles from the last sprinkler heads in each line. Then run the water long enough to clear each line. Follow that by replacing the nozzles. If your system is still suffering from clogs, clean the nozzles, filters, and screens. You can do this by scrubbing and soaking them with a toothbrush. Replace them, if necessary.
Check for Wear and Tear – Common minor problems might be found in spring sprinkler maintenance, such as broken nozzles (sometimes like geysers!), cracked pipes, or worse. Check for these issues regularly by running your system and paying attention to how it operates. Replace broken components as needed to prevent disasters and a higher water bill. Waste can come in a variety of forms. Misdirected sprinkler heads watering areas that shouldn't be watered, such as sidewalks, driveways, streets, rocks, etc., are common issues and wasteful. Adjust your spray patterns for maximum efficiency.
Check the Valves – Turning on the zones individually by opening each sprinkler valve one at a time is an excellent way to isolate problems. Run one zone, and check for leaks, drips, and puddles. If your valve is leaking, you will want to replace it as soon as possible.
Opening the Street Valve – For the initial start-up of your system, you should open the main water valve slowly to fill the pipes with water gradually. That prevents pressure surges which can burst fittings and heads and damaged valves.
Test Water Pressure – When you first turn the main water valve back on, consider the water pressure. It is essential to ensure that the water pressure is at a safe operating range. Be sure it's sufficient to reach all your plants. Too much pressure causes sprinkler head leaks, damaged valves, cracked pipes, and misting.
To measure the water pressure, you will need a water pressure gauge (try this Orbit 91130). For pressure above 40-65 PSI, you might need a pressure regulator to reduce it. If the pressure is too low, you can install nozzles with lower precipitation rates or cut the systems into smaller zones.
If You Take Care of Your System, It Will Take Care of You
Your irrigation system works hard for you every day to ensure that your garden, lawn, and landscape are beautifully maintained. You will get out of it what you put into your spring sprinkler maintenance. As we're now heading into May, it's time to replace old irrigation components by selecting the correct replacement parts and system updates here at PlumbersStock.
A Few Products for Improving Your Sprinkler System
Rain Bird products are among the best the industry offers. PlumbersStock has combined Rain Bird 100DVF valves and Dura fittings into convenient valve manifolds. The valves have a lot of great features, such as:
A low-power encapsulated solenoid, a balanced-pressure diaphragm.
An external bleed flushing capabilities, a double-filtered pilot-flow design.
An internal bleed.
And a Buna-N diaphragm with a 200-micron self-cleaning water filter pilot and captive spring.
They are already assembled for you. You don't have to hassle with matching up the parts and putting them together.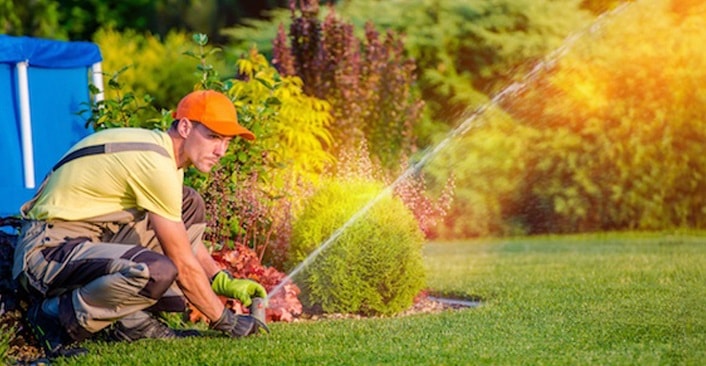 How would you like to control your home irrigation system from anywhere globally? The Rain Bird TM2 Controller Series is a dream come true! They are great for basic residential solutions, but they allow for bells and whistles. The Rainbird TM2 Series is WiFi-ready. That means you can potentially access and control your system from anywhere in the world! They are easy to use, and you can even integrate them for voice-operated control. With Rain Bird's legacy of the intelligent use of water in mind, these controllers offer increased water-saving features! Get the best deals at PlumbersStock