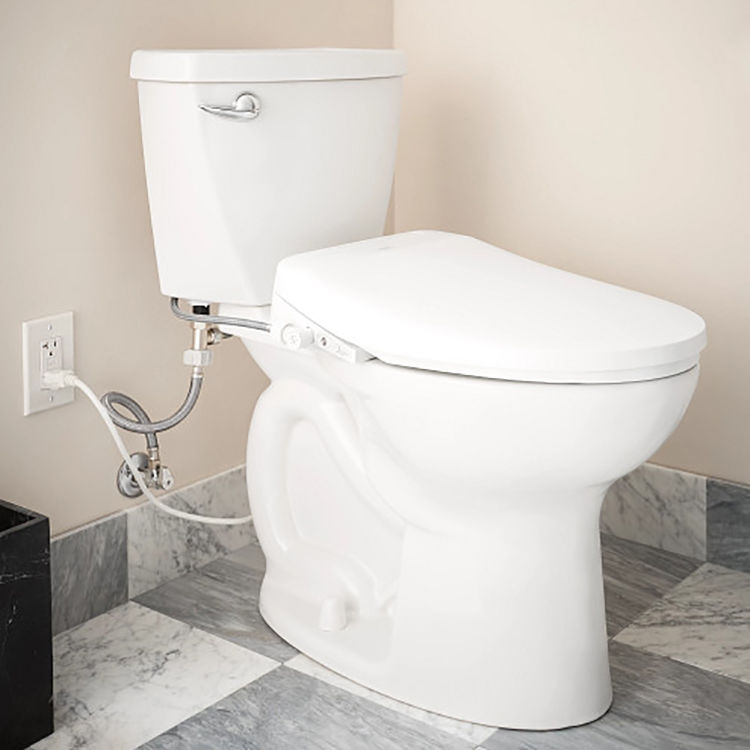 We are excited to announce the release of new Moen eBidet seat attachments. There are three models from which to choose. Moen is known as an innovator in the plumbing industry, and we're so happy to see them bring their affordable ingenuity to the bidet toilet seat world. With affordable pricing and a retrofittable design to replace any current and traditional toilet seats. If you want a biscuit seat, you only have one option. There are two different options for white seats. All of them are elongated:
What Are the Features?
These Moen bidet seat attachments are affordable and can be retrofitted to replace any current elongated toilet seat. Bidet seats improve hygiene and enhance comfort, and it's no different with these Moen solutions. One major difference between the two models is how they appear. The 5-series has a sleeker design: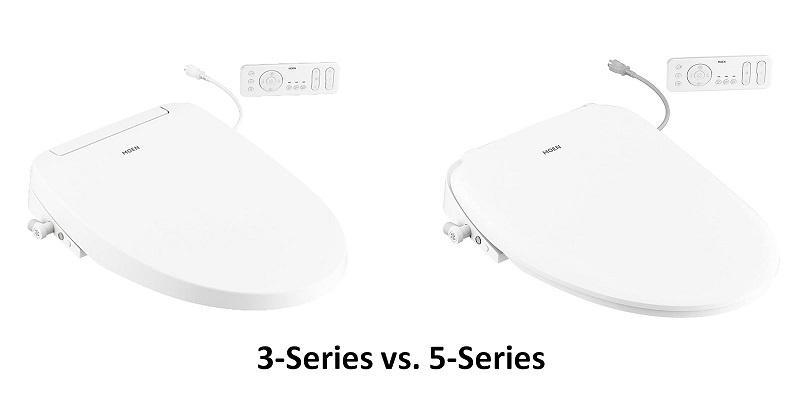 Moen EB1500 3-Series Features
The toilet seat has antimicrobial properties.
A self-cleaning, anti-bacterial nozzle uses silver nanotechnology.
Control settings for oscillating, pulsating, water pressure, temperature, and nozzle position adjustment.
Heated seat.
Instantaneous hot water for front and rear washing.
Energy Saver mode reduces waste.
Remote controlled (usually wall-mounted).
A seat sensor ensures the nozzle operates only when somebody sits on it.
Night light.
SoftClose seat gently closes the lid.
Meets ADA criteria.
Moen EB2100 5-Series Features
The 5-series has all the features you see in the 3-series, and then some.
Warm air dryer is a big selling point. You can control the temperature with this feature.
UV sterilization helps keep the nozzle clean.
Air deodorizer feature included.

If you're wondering about the above EB2000 models, so are we. We think they've already been phased out based on what we know.
Why would I want a bidet seat?
Bidets are environmentally friendly; they produce fewer waste products like toilet paper and flushable wipes. They are a significant upgrade when it comes to cleanliness and hygiene. On top of that, they offer a simple solution to those with limited mobility by reducing the movement required to clean up. In fact, for people who need help wiping, a bidet seat can return their lost privacy, dignity, and pride to them.
Why is a bidet seat better than a full toilet bidet?
The main reason is pricing. It's much more cost-effective to buy a seat than a complete bidet toilet. It's also much easier to install.
Save on New Moen eBidet Seat Attachments at PlumberStock
No matter what Moen product you are looking for, you'll find the best prices here on PlumberStock. We anticipate that the 3-series and 5-series will be best sellers because those are our expectations for Moen. If you'd like to order in bulk, please contact us, and we'll work out a deal. Remember, no matter which brand of toilets or bidets you prefer, you'll find what you're looking for at great prices here.