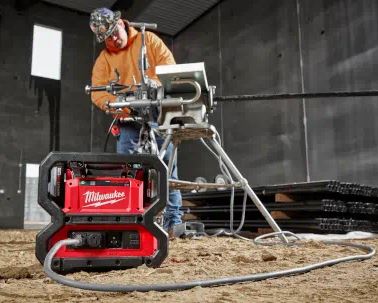 We are excited to announce an amazing portable power supply solution. The new Milwaukee M18 carry-on power supply is a versatile 15 amp, hassle-free option. This is no surprise, given that Milwaukee has a strong reputation for intelligent engineering. With its compact and lightweight design, you can take it anywhere. It supports 15 amps output, which is crucial for working with a team that needs to be running multiple tools. This M18 Carry-on is expected to ship in October 2022.
Why portable power?
Even with the increased popularity (and effectiveness) of cordless power tools, we still rely on corded power supply on the job site. Battery packs die and frequently need recharge (obviously, you would only use this carry-on to charge non-M18 batteries). On top of that, not every tool has a cordless option. And with contractors going paperless, you're seeing more laptops on job sites (or other sensitive electronic devices for viewing blueprints).
What is the M18 Carry-on Power output?
This power supply provides up to 3600 peak watts (the wattage needed to start a tool), and 1800 continuous watts (wattage to keep the tool running) of pure sine wave inverter energy for longer sustained power. The M18 carry-on power supply can run demanding trade tools, such as a table saw.
Any M18 battery will power the M18 Carry-on. You can use different models in unison, but take note that the battery with the lowest capacity of the four will determine the Carry-on's run time.
Power by your side
Because the M18 Carry-on power supply is powered by batteries, it is emission-free and operates quietly. The M18 Carry-on can be used in confined spaces such as indoors, on a lift, or even underground. Contrast that with noisy, bulky, and heavy gas-powered generators that throw off combustion exhaust.
Shared power sources are constantly tripping breakers due to increased consumption. Often, the power source is far away, requiring multiple extension cords, which can be a potential tripping hazard. It can also cause voltage drops. The M18 Carry-on is a more reliable power source that is light (28 lbs) and easy to move around with you on the job.
M18 Carry-On vs. Top-Off
Let's compare the M18 Carry-on with one of our favorite solutions, the Milwaukee Top-Off. The top-off supports just one user via AC 120V outlet and only has enough power for small devices. As mentioned, the M18 Carry-on can support an additional user and has the juice to run more powerful corded tools.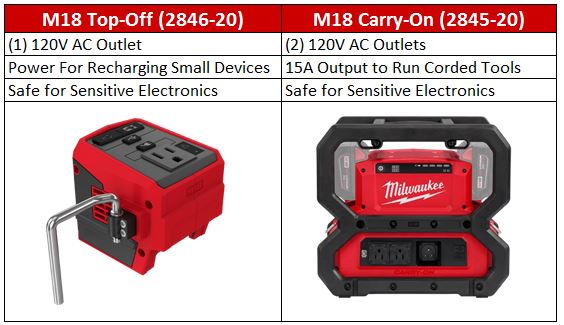 What are pure sine waves?
In terms of electrical current, a pure sine wave is a steady, continuous wave that provides a smooth, periodic oscillation. Pure sine wave inverters are at the top of the list for functionality. The M18 Carry-on can start up, run, and even extend the life of sensitive electronics.
Additional features
The M18 Carry-on is designed with a figure-8 style roll-cage for a convenient place to wrap and store extension cords. It has a built-in battery security design, with a convenient place to put a padlock. This serves as an effective battery antitheft system. The carry-on power supply has shoulder strap (49-16-2845) compatibility.
How big is the M18 Carry-on?
With a length of 15.05 inches, a height of 13.75 inches, and a width of 12.25 inches, the M18 Carry-on is incredibly compact. As mentioned, it only weighs twenty-eight pounds. These are ideal specs for on-the-job use.
Save on the Milwaukee M18 Carry-on power supply
No matter what Milwaukee tool you are looking for, you'll find the best prices here on PlumberStock. The M18 Carry-on will be a best seller due to its impressive top-of-the-line functionality. If you'd like to order in bulk, please contact us, and we'll work out a deal with you. Remember, no matter which brand of tool you prefer, you'll find exactly the tools you're looking for at great prices here on PlumberStock. So contact us soon.