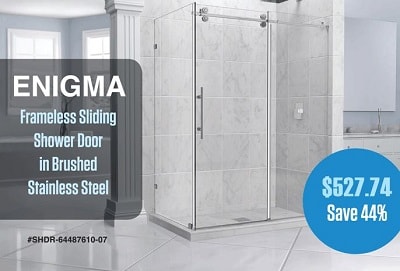 You need to act fast while these prices last on our summer 2017 DreamLine shower sale. Because of their excellent and innovative bathroom solutions, DreamLine shower products are trendy. These are custom shower door solutions that offer the affordability of pre-fabricated products.
Remember, these prices are only available for a limited time and are subject to change at any time! We always have good prices on DreamLine, so even if you miss this summer sale, be sure to browse around.
DreamLine makes shower doors with various kinds of functionality, and they range from tried and true practical options to the stunningly original. The great thing about their shower and tub doors is that they can be adjusted to fit if the measurements aren't quite exact.
DreamLine Products on Sale
One of our best deals is the DreamLine SHDR-64487610-07 Enigma (pictured), which is a frameless sliding shower door system. It is made with brushed stainless steel and will give your bathroom a very modern look.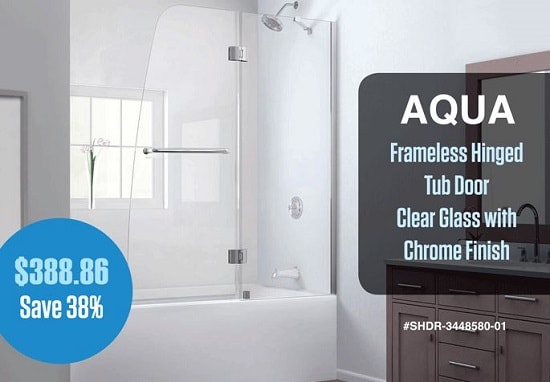 The next product in this DreamLine shower sale is the highly popular DreamLine SHDR-244107210-HFR-01 Unidoor Plus (not pictured). It's a half-frosted, hinged shower door with chrome finish. It's intended for space 41″ wide, but remember it can be adjusted slightly for a better fit (up to about 41.5″).
Next is the DreamLine SHDR-3448580-01 Aqua (pictured). This is a unique design that works for tubs. The clear glass, hinged shower door does not completely cover the length of the tub, and that's part of what makes it so compelling. One of the advantages of this design is that it will fit most any installation.
For a full glass shower enclosure, try the DreamLine E12430-06 Unidoor-X (not pictured, but looks like the other Unidoor-X, just different sizes). The oil rubbed bronze hinges and door handle will look great with your matching showerhead. It's 30″ x 30-3/8″ x 72″. Remember that it will adjust slightly to match your space. The hinged panel side adjusts 1/4," and the return panel side adjusts 1/2″.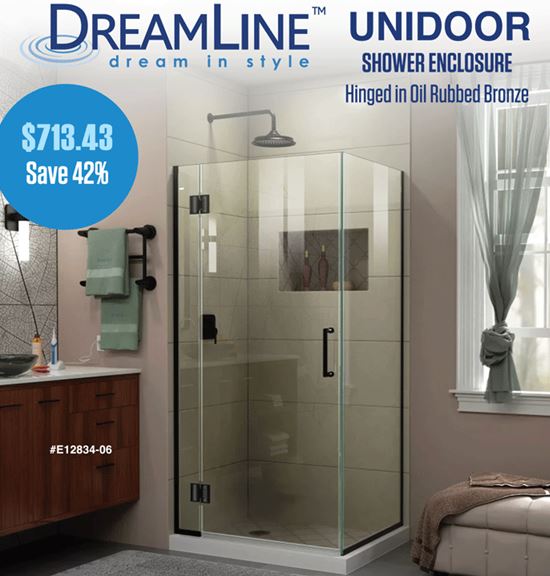 This is the pictured DreamLine E12834-06 Unidoor-X, which only differs from the shower door above in dimensions. It's 34-3/8″ x 34″ x 72″ and offers the same adjustment margins.
DreamLine Shower Seats
They make more than just shower doors, and our DreamLine shower sale includes accessories, like shower seats. All of these are pictured at the bottom of the post.
Check out the DreamLine SHST-01-TK, which is a dark teak shower seat with folding capability. Its dimensions are 12″ x 15″ and its constructed with stainless steel hardware.
Next up is the DreamLine SHST-02-TN. This is an ADA-compliant version of the shower seat above. A shower seat is great for sitting (obviously) but also for placing shower items that you want to be able to grab without bending all the way to the ground.
Last, we have the DreamLine SHST-01-PL, which is a fancy, plastic design. This is water-resistant and maybe the most practical option, but if you have a large shower where water won't constantly be hitting the seat, then you will do fine with a wood option.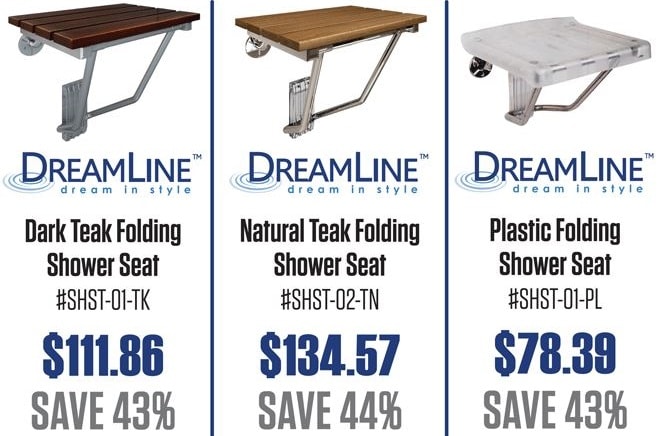 At PlumbersStock, we love DreamLine.com, and it's easy to see why!