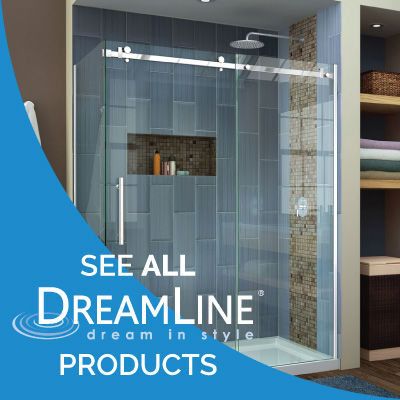 DreamLine offers bathtub and shower solutions that are popular for one simple reason: they're amazing. DreamLine was the winner of the 2014 HD Expo Product Design Award. They have made a name for themselves as innovators within the industry. Whether you need a solution for your bathtub door or a shower enclosure, DreamLine has beautiful options.
We offer about 5,000 Dreamline shower products so if they make it, we probably have it and at a great low price. We can ship right to your door and their bath and shower installations are guaranteed to fit. Even if an enclosure isn't exactly a perfect fit, they will still seal (if the adjustment is within reason).
Types of DreamLine Products
One great thing about DreamLine is that they stick to the products that they know. You can enhance your bathroom design at an affordable price by installing DreamLine shower doors and enclosures. Almost all of DreamLine's products can be divided into the following categories:
Tub doors - sizes typically range from 30 inches to 60 inches in width and from about 52 inches to 65 inches in height. There are a couple of dozen collections to choose from and the door types vary in terms of functionality. There are swinging doors and sliding doors. Choose a finish that matches your bathroom.
Shower doors - sizes typically range from 20 inches to 60 inches in width and from about 70 inches to 80 inches in height. There are a couple of dozen collections to choose from and various glass types. DreamLine shower doors vary in terms of functionality. There are fixed installations, swinging doors, and sliding doors. Choose a finish to match your bathroom fixtures.
Shower enclosures - basically everything you read about shower doors above applies here, but there is also the depth range to consider, which varies from 25 inches to 42 inches.
Shower bases - choose your shower base by color, drain location, height, width, etc. The base types include a single threshold, double threshold, and neo angle.
Accessories and back walls - choose from all kinds of accessories to customize your bath area exactly how you want it.
Choose a glass style that matches your personality and bathroom design. There is tempered glass, obscured glass, and smoked glass.
Hinge Types
Keep in mind that some of the following Dreamline shower door options have different styles within each grouping. For example, there is the Enigma Air and Enigma X.
Aquafold - bi-folding hinges.
Butterfly - sliding/hinge hybrid.
Cavalier - sliding door system where both sides of the unit slide.
Enigma - operates much like the Cavalier system, but only one side of the unit slides.
Flex - this swinging door has a hinge that is found in an interesting location, a few inches from the frame's edge as opposed to putting it right at the edge.
Unidoor - another swinging door, but this option is frameless.
About DreamLine
DreamLine's mission statement is to "deliver value and excellence across the bath and shower marketplace". They've done a great job of that and their reputation speaks for itself.
DreamLine is an industry leader among global manufacturers and distributors of shower doors and shower bases and enclosures, as well as bathtub doors. We are known for our passion for intelligent and innovative design. We deliver affordable bathroom solutions that allow customers a luxurious look and feel. DreamLine is recognized worldwide for off-the-shelf and custom shower door solutions. They pride themselves as "the ultimate solution for any shower project".
Save on DreamLine Shower Products Online
You really can't go wrong with DreamLine shower and bath products and PlumbersStock has a partnership with them that allows us exclusive deals that you won't find available anywhere else. We love their bathroom solutions and it's easy to see why. Save online with the bathroom supply leaders. Learn more at DreamLine.com.