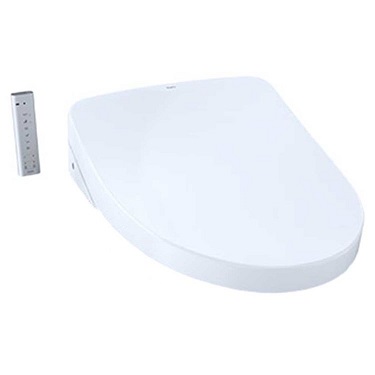 Through the years, one of our most popular product lines has always been the WASHLET. In case you are unfamiliar, a WASHLET is a bidet toilet seat made by one of the most reputable and innovative manufacturers in the business, TOTO. We are so happy to introduce our customers to the new TOTO S500e and S550e WASHLETs! The new models include (in cotton white):
All 4 of these options are offered both in Sedona beige or cotton white and with the WASHLET+ concealed connection feature. If you are familiar with TOTO products, WASHLET+ is essentially the same thing as Connect+, except it's a T40 connection that is compatible with WASHLET+ toilets.
All of these options are intended for elongated toilet installations. It's been a few years since the S300e and S350e were released, so we are super excited to have a new addition to the collection. Unlike past updates, the S500e and S550e are actually replacing their predecessors. Soon enough, you will not be able to by the S300e and S350e (but the C100, C200, A100, and A200 will still be available). If you haven't had experience with a WASHLET before, you should know that they are easy to install and offer simplicity with their convenient user experience.
What Are the New S500 and S550 Features?
The S500e and S550e both come with all the best features from previous models, and they added on-demand wand cleaning and upgraded the sprayer with innovative pulsating and oscillating functions. One new development is that TOTO is offering customers two different styles to choose from: modern and classic. Pick the one that best suits your taste and matches your toilet. The distinguishing characteristics between the 500 and the 550 is that the 550 includes an auto open/close lid with a night light, which are fairly popular features.
We actually have a TOTO WASHLET comparison infographic that we prepared in order to help consumers see the difference in features between the various WASHLET models. There are now over a dozen options, and the details can quickly become dizzying.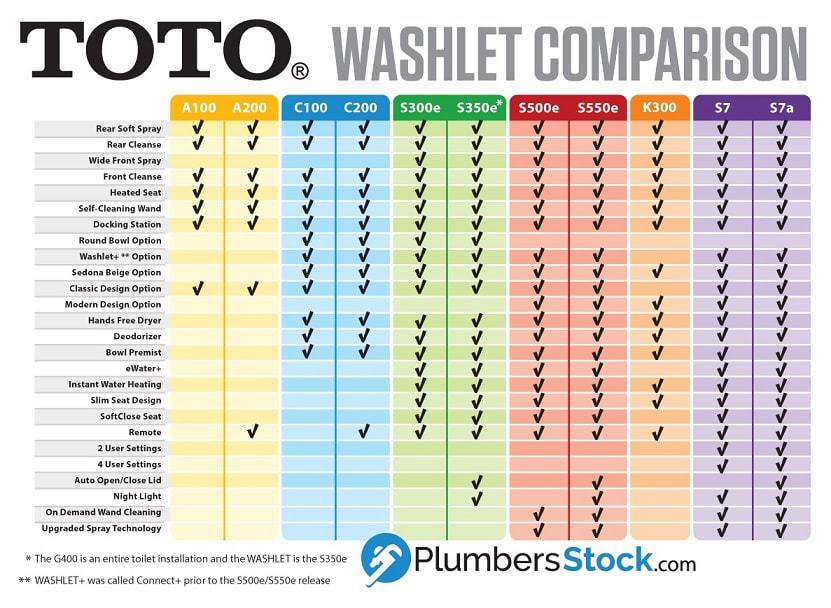 We wrote a whole article about all the features and what they mean, so if you need those details, you can find them here: TOTO WASHLET Comparison. If you still have questions after reading all that, you can contact us directly. You can try chat (go to the main website, and you will see a chat feature in the bottom right-hand corner of your screen), email, or phone.
Round Bowl Options?
We have been asked about round toilet configurations regarding the new WASHLETs. Regrettable, we have received no indication that TOTO is planning to release the S500 and S550 with round bowl options. They just don't sell as well as elongated. The majority of people who invest this much in a toilet have oval configurations. If you need a round bowl solution, then try the S350e (white) or the S300e (white). A common misconception is that the "e" designated in the aforementioned model numbers does not signify they are necessarily compatible with elongated bowls. Our theory is it indicates the WASHLET comes with the Ewater+ feature.
Integrated Toilet Options?
For the time being, there is no integrated toilet option, but we assume that TOTO is planning on one (it only makes sense, right?). We are not sure about that, so please don't hold us to it. The G400 (white) still comes with the S350e for now, which is still one of our best sellers. We also carry two similar products from other brands: the American Standard INAX SATIS and the ProStock PSBTWE1000.
Buy the New TOTO S550e and S500e at PlumbersStock
As you've come to expect, we have some of the best deals on WASHLETs anywhere, and that includes the latest editions. If you are a contractor who needs to buy in bulk, please contact us directly to make an arrangement for a better deal. We are happy to work with you on pricing, and we can help to ensure a better lead time if we are able to put our personal touch on the deal.