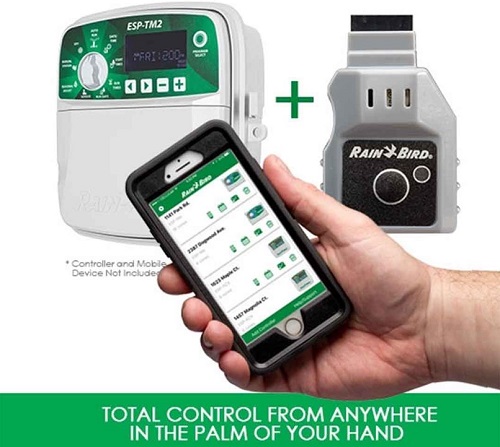 **2021 Update** there is a new LNK2WIFI module and you can learn more about it here with this LNK2WIFI product review.
Original article: Are you ready for the future of sprinkler system controls? If so, then you need to check out how the new Rain Bird LNK WiFi module is changing the game. Here's the hook: with this irrigation solution, you can control your system from anywhere in the world. You don't even have to plan ahead for a vacation. You can just manually operate your sprinklers from your hotel room in Maui, or your work conference in Des Moines.
To utilize this technology, you will need one or both of the following:
Rain Bird LNKWIFI Module (F55000) – you have to have this part. This WIFI module is what allows your controller to connect to the WIFI and, in turn, to your smartphone. It is compatible with three different series of controllers:

Rain Bird ESP-TM2
Rain Bird ESP-ME
Rain Bird ST8

Rain Bird 639340 WIFI Capable Replacement Panel – if you don't have one of the above models manufactured after November '16, you will need this supplementary faceplate to update your controller.