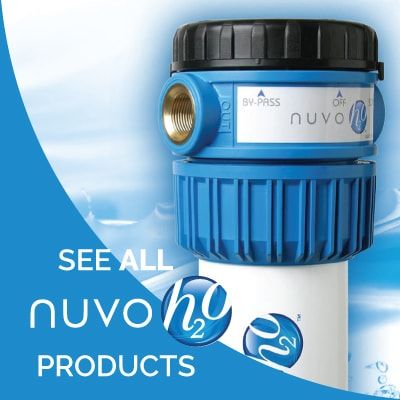 PlumbersStock.com is proud to offer Nuvo H20. It is one of the greatest water softeners available today. With Nuvo water softeners being newcomer products to the industry, it should be noted that they offer water softener machines, cartridges, and dishwasher packets (Pro Citrus).
PlumbersStock is proud to offer products that help ensure hygiene and safety from a quality manufacturer.
Nuvo Water Softeners
The Nuvo H20 is FDA approved and uses CitraCharge technology that makes use of natural, citrus- chelation that keeps hard water minerals from clogging, corroding heaters and plumbing fixtures. It helps treat the water in your home without the hassle of salt. This product is salt-free, eco-friendly, and extends the life of plumbing and water- based appliances. Nuvo H2O does not increase the sodium content of drinking water like some other water softeners. A Nuvo water softener helps to ensure healthy skin and hair because it does not use harsh chemicals.
Cartridges
A Nuvo H2O replacement cartridge can last for six months and is easy to replace. There are different types of cartridges that Nuvo offers and they should be chosen based off the size of your living space. These types of cartridges are studio, manor, and home. Studio cartridge is for a home of 1 to 2 people or 1 to 2 bathrooms. Manor is for a home with 6 or more people or 4 or more bathrooms. The largest type of replacement cartridge they offer is Home, which is compatible with a home of 6 or more people or 4 or more bathrooms.
Dishwasher Pro- Citrus Packets
Nuvo has invented something that can eliminate hard water spots and white film that can build up on your dishes caused by low phosphate soaps. Using only detergent can leave deposits on your dishware throughout the rinse cycle. This product will not leave food residue or leave milky-white buildup on dishes thus leaving your dishware sparkling like new. Unfortunately, we do not currently sell these on PlumbersStock.
More about Nuvo
Nuvo is new to the market, establishing its name in 2009. They are headquartered in Utah where the company first started to experiment with salt free water softeners. Nuvo H20 is a leader in eco-friendly, salt-free water softeners and is currently available for residential locations. They are looking to expand to commercial and international markets. This product is great because it comes with a lifetime warranty; if you are not satisfied with this product, they will include a full money- back guarantee refund. With phenomenal growth in its early stages of business, Nuvo is here to stay.
Buy Discount Nuvo H2O Products
Thank you for choosing PlumbersStock where you can get the greatest prices on the web and be able to select from an enormous inventory. Remember to filter the product results to match the Nuvo H20 water softener products for which you are searching. For even better savings, try to take advantage of some of our shipping benefits. If you have questions regarding a Nuvo H20 water softener or other plumbing products, please contact our customer support at (435) 868-4020. Learn more at NuvoH2O.com.