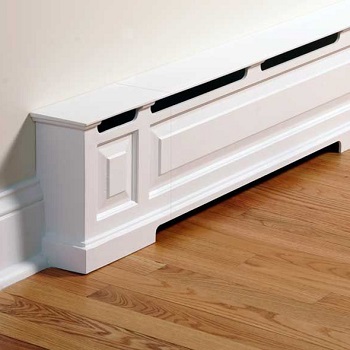 In case you are unfamiliar, baseboard heaters are the vents that you see attached to the wall along the baseboard (go figure). These heaters are generally attached to the external wall in the home. These heaters work great as a supplemental and primary heat and are perfect for rooms which may struggle to warm up from the central air system. There are many types of baseboard heaters, ranging from gas to electric. At PlumbersStock, we offer hydronic or radiant heat baseboard heaters in our huge inventory of HVAC supply.
There are many great advantages to baseboard heaters for you to consider. Without further ado:
List of Benefits of Baseboard Heating
Here is a quick list of the four most important selling points for a radiant heat system that uses baseboard units. This list excludes some crucial considerations, like what the current infrastructure of your home is. Certain types of builds in specific areas of the country will make radiant heat a poor or a great choice, depending on the circumstances.
Low Cost
Installing a baseboard heater in a home can be extremely inexpensive and rather easy to do. Since some baseboard heater doesn't require any ductwork or vents, it can pretty much be installed by anyone. Running a baseboard heater is also very inexpensive. A large home heating system uses a lot of gas and electricity to heat an entire house. When you use a baseboard heater you are just heating one room, or in the case of radiant heat, running the system is very cost-effective.
Baseboard heaters are perfect when you are going to sleep at night and want your bedroom warm but don't mind if the rest of the house is cold. Think how much money you would save just running a heater in your bedroom. These unique heaters are very low cost to run.
Easy to Maintain
A large heating system is not only expensive to maintain, but it's rather difficult. Often if you are having problems with your heating system in your home you need a repairman to come out and fix the problem. Usually, with a baseboard heater, you can typically fix the problem yourself. The problems with these heaters are also minimal because of the size and lack of parts.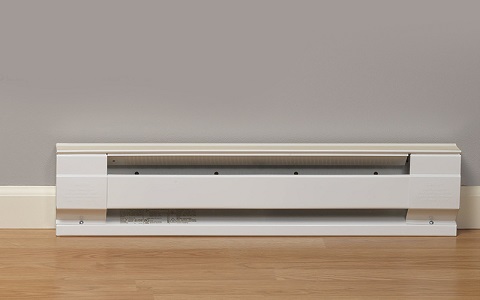 Quiet to Run
Do you get sick of the loud noise your heater makes when it is running? Does it wake you up out of a deep sleep when it turns on in the middle of the night? Most baseboard heaters that you purchase for your home are not only easy to maintain, but they are also extremely quiet to run. This is a great perk when you are trying to keep your rooms quiet.
Easy to Control Temperature
Many baseboard heaters come with a thermostat on them which can be adjusted. That way you can regulate each room in your house individually versus the house as a whole. This is why baseboard heaters are so popular in hotels, apartments, and retirement homes. They make it easy to regulate each room individually based on an individual's needs.
Baseboard Heaters are the Way to Go!
Baseboard heaters really are a great choice for many homeowners everywhere. There are so many benefits to adding these unique machines to the colder rooms and bedrooms in your house. Baseboard heaters come in many different shapes and sizes to easily adapt to any room in the house. They are easy to maintain, quiet to run, and low in cost. With all the benefits of having these heaters in your home, it's a wonder why anyone ever goes without. Discover the advantages to baseboard heaters you can enjoy in your arrangement by contacting our staff with any questions about installation and cost. Save on home heating products here at PlumbersStock, specifically rare and hard-to-find HVAC parts.
Related resources:
What Is Radiant Heating?
What Size Boiler Do I Need?
What Is a Condensing Boiler?
Wikipedia: Radiant Heat