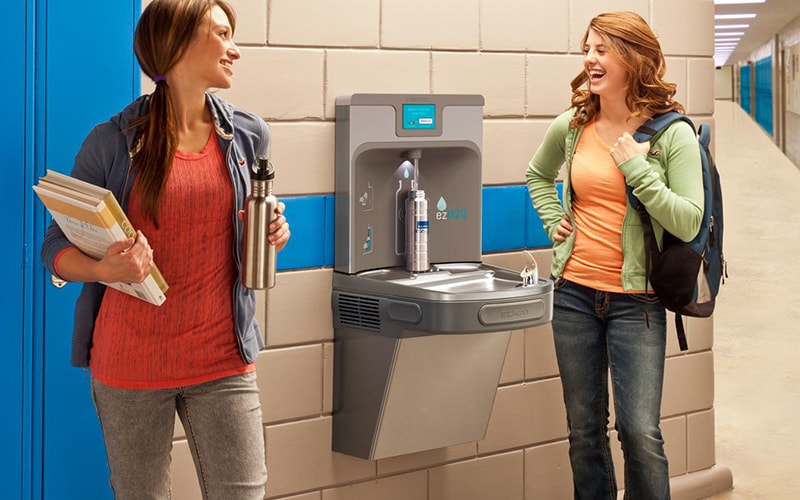 It's not every day that you attempt an odd job like this, so how can you be expected to know how to install a drinking fountain?
That's where PlumbersStock comes in. This helpful resource will get you on track to enjoying your brand new drinking fountain. This isn't your standard installation. We've got an awesome feature to add and discuss.
When you factor in the EZH2O feature, available from Elkay, the job becomes even trickier. Even the most experienced handyman might struggle a minute or two with this element, so take advantage of this helpful video guide.
PlumbersStock's own West Harris walks you through the process and offers professional tips to make the job go smoothly. The EZH2O feature is convenient and environmentally friendly as it prevents waste, so we highly recommend it when you need to replace or install a drinking fountain.
Installing an Elkay Drinking Fountain
For your convenience, if you prefer reading, here are the basic steps for completing the installation:
Remove the mounting bracket
Use your level to position bracket, then put your anchors in the wall. Use wall studs, if possible.
Put the mounting bracket in place
Because the rough plumbing didn't match the inlet on the drinking fountain, we had to cut a hole in the fountain. You may or may not have to do this yourself.
Secure the fountain to the mounting bracket.
Install the EZH2O bracket.
Connect the water supply line.
Install the water filter, which is a tight fit, but should install without a problem if you did the drainpipe properly.
Attach the outer housing.
Plugin the fountain and the EZH2O
Buy Elkay Fountains Online
Now you know, and we all know how much of the battle that is. Buy new Elkay fountains here at PlumbersStock! If you have any questions or comments, please leave them below and we'll offer our expertise in return. Check out our how-to-plumb page for other helpful learning resources, just like this. We also carry water cooler parts at discount prices.