Did you know that many refer to duct sealant as pookie? We love that term! This task is easy, and it will save you a lot of heartache in the long run. Hardcast Duct Seal 321 can be applied to the seams of your ductwork to ensure your system is not compromised by leaks. This will help you protect against wasting money and energy. In this economy, we are all looking for ways to save a few here and there. Improve the efficiency of your HVAC system by learning from our how to use duct seal tutorial video:
Applying Duct Sealant in 1 Step
It's this simple:
Using a cheap paintbrush, apply pookie generously to the area you want to seal.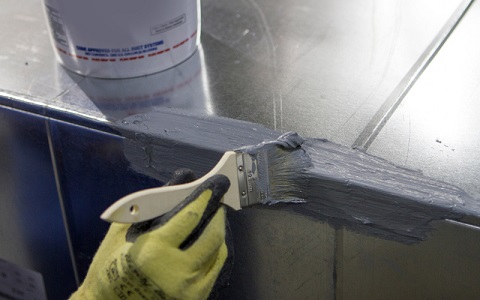 As Phil mentions, this product is better for larger seams. Remember, do not be stingy. A generous amount of duct seal will ensure a better seam, which results in a higher efficiency system for you. If you have leaks in your system, they can be very costly, and duct sealant can make a tremendous amount of difference to your utility bill.
Tips for High-Efficiency HVAC Results
If you use duct seal where needed, you will like the results. Save on your energy bill and preserve the environment by cutting down on your energy consumption through sealing your ducts and following other preventive maintenance measures we offer. If there is a question you have that we have not already answered, please ask, and we may highlight it in an article. If you have any tips yourself, we can showcase them and give you credit.
Knowledge is power, and we're all better off when we share it. Now that you know how to use duct seal, share the wisdom with your friends on social media.
Remember to save on ducting and other HVAC supply at PlumbersStock.
Check Out Our Helpful HVAC Resources
We have lots of HVAC tutorials so that you can reference them and benefit from our industry expertise. We have lots of videos, infographics, and articles for all types of home improvement projects. If there is a topic you would like us to tackle, please tell us about it. If anything from this tutorial is unclear or if you have questions about a product, please contact us via chat.
Related resources:
What Do Diffusers Do?
How to Clean In-Wall Dryer Vent
How to Reduce Ductwork
How to Connect Ducting
How to Install a Diffuser
What Is a Fire Damper?