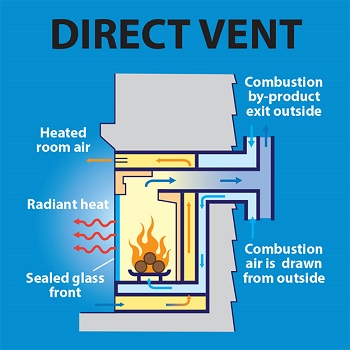 A popular question often asked is what is a direct vent fireplace? While traditional fireplaces have an open burning chamber that vents through a chimney, a direct vent fireplace does not. A direct vent fireplace has a completely enclosed chamber and can vent directly out a sidewall, or vertically to the roof.
A direct vent fireplace runs off natural gas or propane, and this configuration makes for easy maintenance and quality long run functionality. PlumbersStock carries plenty of options for gas fireplace insert at affordable prices so please call if you have any questions. There are many reasons you will want to consider the benefits of installing a direct vent in your home, which we will cover. Read on for more specifics about direct vent fireplaces.
Before we proceed, be aware of one of the best-kept secrets at PlumbersStock. We offer a huge selection discount fireplace options, as well as parts and accessories. The catch is that you must log in to see the products. Then you can find all our fireplace supplies here.
How Does A Direct Vent Fireplace Work?
A direct vent fireplace has a venting system that consists of a pipe within a pipe (also called double-wall pipe). The internal pipe vents to the outside of the home and the external pipe brings air from the outside of your home into the fireplace.
As the hot air is suctioned down the venting system it is heated on the hot central venting pipe. This helps the fireplace run more efficiently. A direct vent fireplace does not require wood or matches. As mentioned, it runs off propane or natural gas.
Benefits to Direct Vent Installations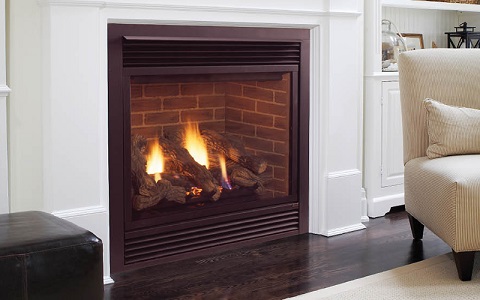 Easy to Clean
Have you ever cleaned out a wood-burning fireplace before? If you have you know that it can be a lot of work. Not only do you have to scoop all the ashes and debris out with a shovel on a continual basis, but wood chips and dust can get all over your carpet. A direct vent fireplace stays clean on a recurrent basis. The only upkeep with this type of fireplace would be the glass. With a simple glass cleaner, you can keep your fireplace clean and running in tip-top condition.
Convenience
A direct vent fireplace is not only easy to clean, but it's also very convenient to use. With this unique type of fireplace, you can turn your fire on with a simple switch of a button. No hauling wood, or lighting matches, it just simply lights up and starts doing its job.
Compatible with Most Homes
Direct vent fireplaces are perfect for almost any home. With this type of fireplace, you don't need to worry about what wall you install it on, or how close it is to your furniture. You can pretty much install a direct vent fireplace wherever you want. A direct vent fireplace saves space and looks great in every room in your house.
Stay Warm with a Direct Vent Fireplace
Many individuals who love the comfort and warmth of a fireplace love the convenience and ease of use with a direct vent fireplace. Not only are these unique fireplaces easy to clean and convenient, but they are a great way to add style to your home. Direct vent fireplaces are perfect for snuggling up and reading a good book and are just what every individual need on a cold winter's night.
Read more on direct venting on Wikipedia. If this article was helpful in answering what is a direct vent fireplace, please share it on social media. Remember, we carry trusted brands like Monessen, Vermont Castings, and Majestic fireplace products. And again, to see exclusive deals from those brands, you need to log in.
Related resources:
How to Install a Wood-Burning Stove
Advantages of a Wood-Burning Stove
Are Ventless Fireplaces Safe?