Choosing between tankless water heaters and traditional tank water heater models is not an easy decision, and you should weigh all the various pros and cons of each to determine what's best for you. PlumbersStock offers you this quick reference tankless vs. tank water heater comparison resource so that you can make a more informed decision:

Please feel free to share this tankless vs. tank water heater infographic on social media channels, if you found it helpful. Going tankless is a great way to reduce your energy consumption, so help spread the word and save on heating.
Is a Tankless Water Heater Right for Me?
For most people, a tankless water heater is an excellent choice. If you have a big house, many shower users, and only one tankless unit, it's probably not going to give you enough firepower. However, have you considered installing two tankless units? Many homeowners go this route, so they don't have to pay for unused power. If you live in a small home and are facing an electric water heater installation, tankless is almost a no-brainer.
If you need gas supply lines to hook up your water heater, we have great options. We also have an article about how tankless water heaters work, and there you will find more information about making a smart purchasing decision.
Electric Tankless Water Heater vs. Tank Water Heater
Though it's true that with the right habits, an electric tankless water heater can be a cheaper option than an electric tank water heater, there is no guarantee you will save. If you use a lot of hot water, then a tank might be the better option for you. Electric tankless may not be the most energy-efficient solution for a big family. Electric might be the only option in your area, so make the best choice for your family.
Tankless Gas Water Heater vs. Tank
If you have gas hook-ups at your home, then this is a great option for you. On-demand hot water offers the most energy-savings if your tankless unit operates off natural gas. When it's time to replace your gas water heater tank, you should strongly consider installing a tankless solution.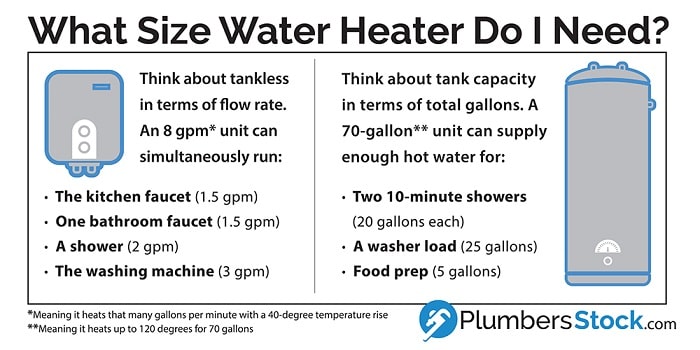 Learn More About On-Demand Water Heaters
Here at PlumbersStock, we have plenty of different resources for you to reference as you make a buying decision. We have the best brands, like Bradford White and Takagi. Consider your purchase from all different angles and get the most bang for your buck when you shop online with us. Check out the tankless water heating Wiki page, or check these resources out:
How do tankless water heaters work? - With a helpful infographic, we explain the process in layman's terms. We also have information about water hardness around the nation.
How to install a tankless water heater? - The process is not that complicated, but it's still nice to have a thorough resource. If you have any trouble with our instructions, please call or chat us up.
Other related resources:
Fixing a Water Heater Pilot Light
How to Replace a Water Heater