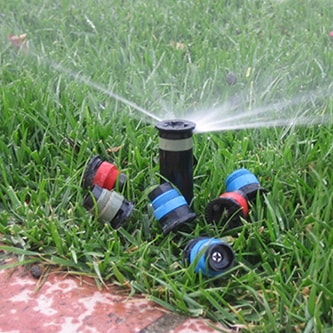 If you have an automatic sprinkler system in your yard, chances are you have experienced a broken sprinkler head before. Broken sprinkler heads can occur for a number of reasons, but most commonly they happen when the head is poking too far out of the ground and is run over by a lawnmower. It's an easy fix, and can pretty much be done by anyone. Read on to learn how to replace a sprinkler head.
How do You Know if Your Sprinkler Head is Broken?
Though some symptoms are more obvious than others, you may not be sure if repairs are needed. If your sprinkler is unable to properly cover the desired area (nozzle issue), doesn't pop up when your sprinklers turn on, or is completely broken off (see the result in the image to the right), you will need to replace the head with a new one.
This is a simple process and can easily be done by following a few simple steps.
As you know, having the right parts makes all the difference, like quality, compatible components save you on repairs down the road, so this next step is an important one:
Finding the Right Sprinkler Head
Once you have identified that your sprinkler head is having a problem you will need to take the steps necessary to fix it. Before you even begin the installation process you will need to find the right sprinkler head to attach to your system. This can be done by looking at your old head, your old parts list, or by asking a professional. Once you find the right part you need, you can then move onto the installation process. Keep in mind that your sprinkler system parts don't have to exactly match. As long as you go with trusted manufacturers, it doesn't matter if you mix and match Rain Bird and Toro, they can all work in conjunction and are built to deliver quality results for a long time. The only thing you have to worry about when it comes to compatibility is times and sensors (anything electronic).
Fixing Broken Sprinkler Heads
Installing a new sprinkler head is one of the easiest fixes when it comes to your sprinklers. It will only take a little of your time and is rather inexpensive when done by yourself. Here is what you will need to do to begin.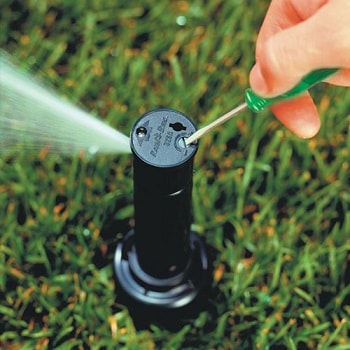 Turn Off Water System - Before beginning your installation it is so important to make sure that your water system is shut off properly. If you don't get your water shut off before the installation process you will have water spraying everywhere.
Dig Hole Around Broken Part - Once you have shut off your water supply, it's then time to dig up the problem. Dig a hole (typically 1' deep and 6" in diameter) around your head using a shovel. Place your sod safely out of the way so you can put it back in place when you are done with your repair.
Dig Down to Riser - Once you have dug all the way down to the riser you know that you can stop. Be sure to be very careful as you are digging so that you don't damage your system. The riser is the vertical pipe that branches off the mainline. Once you reach that pipe you can stop digging.
Remove Old Sprinkler Head - This is a very easy process. The old sprinkler head can be taken off by turning the head counterclockwise. In many cases, you may need to pull out a wrench or pliers to help you get the head off.
Attach the New Sprinkler Head - Place your new sprinkler head onto the riser and turn it clockwise. Make sure that you get it plenty tight and that it is installed correctly.
Check System Before Filling Hole - This step is so very important. Ensure that it's spraying to your satisfaction before doing the cleanup. This will save you from digging up the sprinkler again if your system is still having problems.
Now You're Ready
Now that you know how to fix sprinkler heads, you can see how easy it is. If you run into any snags along the way, please drop us a comment and we can offer our expertise. Installing a new sprinkler head is not always easy, but usually, it's a quick task. If you are having problems with the sprinkler heads in your yard don't go another day with them not working. Get them fixed today and discover what properly installed sprinkler heads can do for your yard.
Note: The likely reason that sprinklers are ruined by lawn mowers is their inability to drop down once the water pressure is gone. This is often caused by the dirt of one kind or another in the water. Inline filters are a great way to prevent this issue from arising. Also, whenever I work on the lawn I carry nipple extractors on my person because they make it so easy to remove broken risers.
Related Resources:
How to Find a Sprinkler Leak
Replacing a Sprinkler Valve
Sprinkler Maintenance Checklist
When to Water Your Lawn