About TOTO Drake Toilets
There are many different great options in the TOTO Drake collection, so you can be sure to get the toilet that best fits your needs. Whatever it is, you can find here at PlumbersStock at a great low price. Check out the helpful grid which will indicate which features are available in all the various models, whether you are looking for an original TOTO Drake toilet, an Eco Drake, or a Drake II.
TOTO Drake Features
We have an awesome grid that will allow you to make quick comparisons among all the various toilet options. Each toilet has a unique product number that you will see on the left of the grid. Remember as you shop the site that each model comes in different colors. The cotton white toilets are the product numbers with "#01" at the end of them, For example, the TOTO Drake CST744SL#01.
TOTO Drake toilets are all two-piece units. They all have chrome trip levers. Here is how they all differ: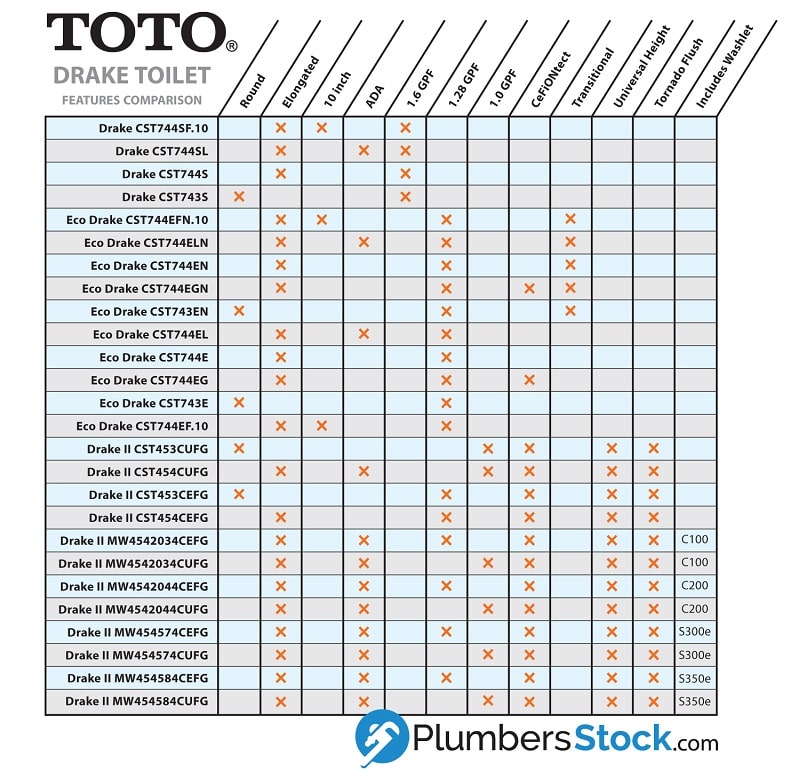 Here is a key for interpreting the graphic:
Round - indicates a round front bowl.
Elongated - indicates an elongated bowl.
10" - indicates that the toilet is for a 10" rough-in. If not specified, then the toilet is a standard 12" rough-in.
ADA - indicates the toilet is compliant with the Americans with Disabilities Act.
GPF - there are three different options for gallons per flush.
CeFiONtect - this proprietary glaze technology uses an ion barrier to keep the toilet cleaner for longer. This used to be referred to as Sana-Gloss.
Transitional - this refers to the style of the toilets with a more squared tank and decorative lid.
Universal Height - TOTO offers these toilets at 16-1/2" tall, because their research shows that it the optimal size for accommodating the widest range of people, from children to adults.
Tornado Flush - also referred to as a double cyclone mechanism, this is the innovative TOTO flush feature that allows you to get more power out of less water.
Includes WASHLET - get the Drake II with various options for Washlets.
Original Drake Toilets
Using G-Max flushing technology, the original Drake came with a computer-designed, fully-glazed trapway. You can change out the tank for different stylings (and there is an insulated tank). Aside from the 10" rough-in option, they all come in 5 different colors.
Eco Drake
TOTO upgraded these with E-Max flushing technology (1.28 GPF) and they all come with the glazed trapway. Aside from the 10" rough-in options and the CeFiONtect option, they all come in 5 different colors.
Drake II Toilets
This time around, TOTO upgraded to Tornado Flush technology, which operates off 1.28 GPF or as little as 1.0 GPF. They all include Universal Height and CeFiONtect. Though the addition of a Washlet (Connect+) is expensive, it's well worth it for many users, so check out your options. If you do get it with the Washlet, your only option is cotton white, however, all the other toilets come in 5 different colors.
TOTO Drake Colors
Every toilet comes in cotton white, but you will find 5 different colors in the collection:
Bone
Colonial white
Cotton white
Ebony*
Sedona beige
*Be aware that if you choose a model with CeFiONtect, you will not get this feature with an ebony model.

Save on TOTO Drake Toilets Online
If you have any remaining questions, please don't hesitate to contact us. You can reach us by phone, email, or the chat feature. Buy TOTO Drake here and we'll ship it right to your door. You can save on all TOTO products here at PlumbersStock. Learn more about this collection at totousa.com/drake.