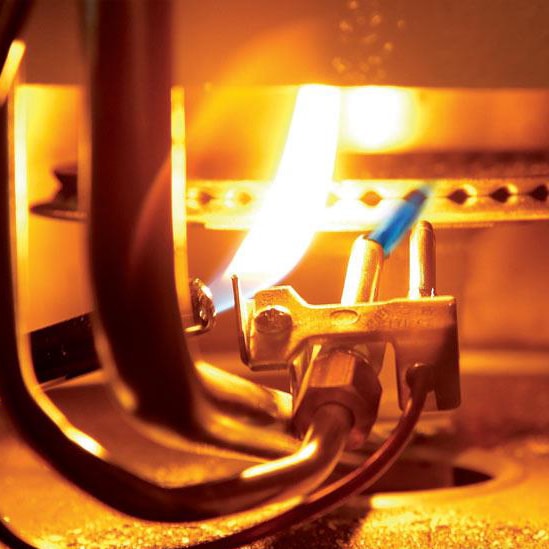 Recently, you might have seen the jokes circulating online about "first world problems". When it comes to today's luxuries, we tend to take hot showers for granted. The first world problem here is we act like cold showers are the worst thing that can happen to us. Though that may be a little extreme, when you've become accustomed to modern conveniences, nobody wants to deal with a broken water heater. Here we will cover how to replace a thermocouple on a water heater.
What Do I Do If the Pilot Light Is Out?
Your gas water heater will stop operating if the pilot light goes out. The fix here is easy if you know how to light a water heater. If your pilot light keeps going out, you may have a faulty thermocouple. A thermocouple senses the heat of a pilot light and then lets gas flow to the burner. When the thermocouple has gone bad, it will shut off the gas supply to both the pilot and the burner. If this is why your pilot light has gone out, you will need to replace your thermocouple with a new one.
Water Heater Thermocouple Replacement in 5 Steps
You will need to find a new thermocouple that matches your old thermocouple. One that is the same size and length. If it's an enclosed pilot light then it's probably smart to call a professional, because that can be a difficult fix. Once you have purchased your new thermocouple you can then pull out the old one and replace it with your new one, using the following steps:
To Begin, TURN OFF THE GAS CONTROL VALVE!
Once you have the valve turned off, you can remove the burner access covers. Remove the nuts which may be found on the gas, pilot, and thermocouple lines.
Detach the thermocouple and remove it. It's usually snapped into place with a couple of clips and with the end inserted within the pilot assembly.
Install your new thermocouple exactly the same way your old one was installed. Turn the control valve back on. Put it to the test. Your water heater should be up and running again as good as new!
Turn the gas back on, and you're in business.
After installing a new thermocouple, if you are still having problems getting your pilot light to work you may need to ask advice from a professional. If you prefer a video tutorial, try this DANDLINC walkthrough
Enjoy Your Repaired Water Hater
Fixing a thermocouple that has gone bad is usually an easy task and in many cases, it will get your system up and running again in no time at all. If for some reason you are having problems with the installation or smell gas, stop your install immediately. You should never smell gas while you are fixing a water heater pilot light if you are doing everything correctly. Always remember that if you feel nervous or have a question about your installation process it's always a good idea to ask for help on how to fix a water heater pilot. Save on water heaters and accessories, like this Honeywell 3/4" mixing valve, when you shop with PlumbersStock. Remember that we have all the water heater parts and accessories you need!
Try a tankless water heater! It's a great way to supplement your existing tank system, or it's even possible your entire home can operate with just one tankless unit for all your hot water needs.
Related Resources:
Replacing a Water Heater Tank
Tankless vs. Tank Water Heater Comparison