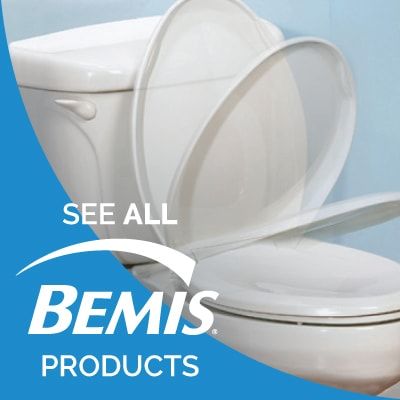 Inevitably, toilet seats must be replaced, and going with a replacement from the toilet manufacturer is not always the most affordable solution. A reputable manufacturer, like Bemis, can provide you with suitable and affordable replacements.
With hundreds of options in Bemis toilet seat parts, PlumbersStock is your top choice for wholesale online plumbing supply. Our savings are unbeatable, and with such a large inventory we are certain to have the part you need.
Bemis Plumbing Design Features
Whether you need a toilet seat for commercial or residential application, there are design features to consider. For commercial toilets, you will likely want to stick with white or black toilet seats, but for residential purposes, there are numerous options when it comes to Bemis toilet seat colors. With options that include lime, cherry, and avocado, Bemis Manufacturing Company offers unique options that will allow your bathroom to stand out. Most popularly, customers are opting for a Bemis toilet seat/cover with a wood finish. With different shades of wood available, your options are not limited and you can find the right match for your home.
You may have never noticed, but toilet seat covers come in a variety of shapes. There are Bemis models that showcase everything from shell designs to murals of the sun, moon, and stars. More traditionally, there are covers with interesting contours that give the cover a unique but subtle personality.
For those that have trouble getting on and off the toilet, Bemis offers seats with handles (elongated). For children, they offer a potty training-overlay seat for the ultimate convenience (every bit helps when it comes to the inconvenient task of potty training.
Bemis Elongated Toilet Seats
Made to fit elongated toilets, these seats create a more comfortable bathroom experience for the large majority of users. Not only are they friendlier to disabled users, but the bowl height and length of the seat create a more comfortable seated position for adults. Most commercial toilets only utilize a seat, but for a residential application, we recommend you get a toilet seat cover as well.
Bemis Round Toilet Seats
Ideal for kids' bathrooms and half baths, the round toilet is typically smaller and offers space-savings. Round toilets can be used by all, but are not ideal in master bathrooms and public restrooms. For obvious reasons, the smaller round toilets are more work to keep clean, but if you do not have space then this is the toilet for you.
Parts and Accessories
In some cases, you may only need to replace a broken hinge, which is why PlumbersStock offers Bemis toilet seat hinges and replacement kits.
Discount Bemis Bathroom Products
Save on everything you need to update your toilet, including Bemis products. If you have any trouble finding the best seat to match your bathroom, or if you are not sure that Bemis toilet seat parts are compatible with your toilet, please contact our customer service department and we will be glad to offer help. Learn more at BemisMfg.com.