About Trone Smart Toilets
The engineers at Trone set out to make a luxury bidet toilet line that the average American can afford, and it's safe to say they have met that goal. With all the various series, models, and features, shopping for a smart toilet can be daunting. Fortunately, our PlumbersStock experts have all the info you need. Let's start by discussing these bidet toilet combos by category:
Choosing a Trone Bidet Toilet
Luxury Series - These are the top-of-the-line models manufactured by Trone. You get all the bells and whistles with arguably the best aesthetics (tho beauty is in the eye of the beholder). The Luxury line includes:
Premium Series - These Premium bidets are so full of features, and you're going to wonder why they weren't included in the Luxury line. These models include:
Deluxe Series - Considered to be the best bang for the buck, the Deluxe line is a great choice for the cost-conscious consumer who also wants to enjoy the finer things in life.
How Does Trone Compare to the Competition?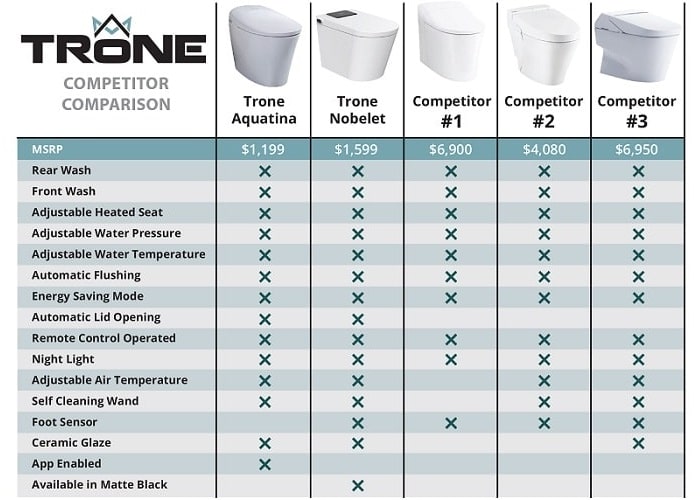 Trone MPN Key
For a quick reference guide to Trone toilets, try this Trone features infographic.
Trone MPN's tell you what the smart toilet features are if you understand how to read them. This key will help you shop for the various models. If the letter is present in the MPN, then you know the model offers that feature.
The first initial is the first letter of the model name, so N = Nobelet and F = Fountina.
E = electronic
T = toilet
B = bidet
C = complete
D = digital
E = elongated
R = remote
N = night light
12 = 12" rough-in
Then the final suffix on the MPN is a period symbol plus an abbreviation for the finish. Matte black = .MB, white = .WH, etc.
Example
So when you see the Nobelet's MPN of NETBCDER-12.WH, you know that it's a white, complete, digital, electronic, elongated toilet and bidet with a remote and 12" rough-in.