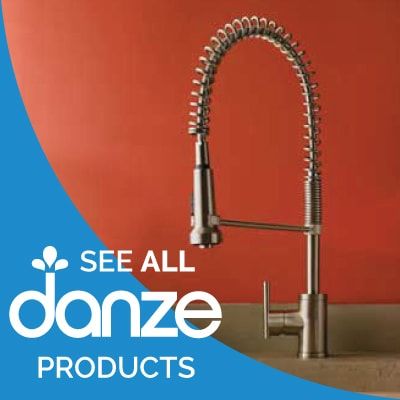 At PlumbersStock, we carry some of the most reputable brands in the business, and our inventory would be incomplete without including beautiful Danze plumbing products. With the best prices on the web, PlumbersStock is the ideal place to shop for fixtures. We carry everything, including:
Kitchen sink faucets
Lavatory faucets
Toilets
Kitchen sinks
Bathroom sinks
Parts
Accessories and more
By contract, we are not allowed to advertise prices below a certain threshold, so if you see a product that says, "see price in cart", that is how we are able to offer you the lowest prices without violating our contracts. Take advantage of our low prices and have Danze replacement parts shipped directly to your door.
Bathroom
Danze has over 20 different collections of wonderfully designed toilets, vanities, faucets, showerheads, and bath accessories that give you the freedom to build what you need for your dream bathroom.
Usually known for their faucets, it may come as a surprise to you that Danze toilets are among the best in the industry. Manufactured in both one-piece and two-piece configurations, you are sure to find a model that best fits your needs. For long-term use, we recommend two-piece toilets, unless you are installing in a small bathroom. We also carry Danze toilet parts.
With so many options in Danze lavatory faucets, take advantage of the filters on the left to refine product results by finish, configuration, and more. In addition to a large inventory of faucets, PlumbersStock offers Danze replacement parts in case you need a new cartridge and do not need to replace the entire unit. Everything built at Danze is meant to delight your senses and the Danze bathroom collections can do just that with a wide array of beautiful lavatory faucets designed with today's trends in mind.
If you need trim, a tub faucet, or a Danze showerhead, you can find them all here. One nice thing about purchasing your fixtures from a single manufacturer is that you can easily match your two faucets and shower head in both color and style.
Danze sinks are generally of the vessel or pedestal variety, ideal for smaller bathrooms. All kinds of accessories are available here as well, including robe hooks, towel bars, soap dispensers, and more.
Kitchen
In addition to some of the most elegant faucets, Danze also offers affordable solutions for any budget. Danze features kitchen fixtures that are beautiful and give off an art-like quality. Kitchen faucets should do more than just wash dishes and vegetables. They should catch your eye and enhance the look and feel of your kitchen. Danze offers plenty of styles that do just that. PlumbersStock carries kitchen faucets, bar faucets, and pot fillers.
Save on Danze Fixtures Online
We proudly carry the most reputable names in the business and we offer their products at wholesale prices. With great service and fast shipping, you can see why PlumbersStock is the top choice for online plumbing supply. If you have any trouble locating the Danze parts you need, please contact our helpful staff of customer service representatives and they can help you find the right Danze faucets, toilets, sinks, etc. Learn more at Danze.com and thank you for choosing PlumbersStock.