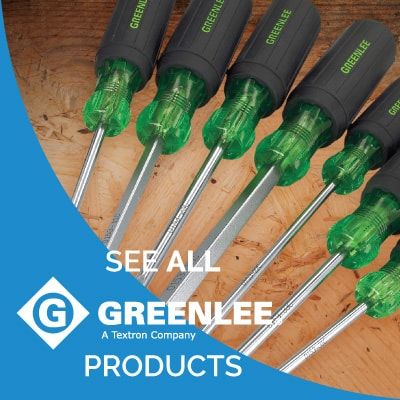 Greenlee, one of the most venerable tool creators in the industry, offers the best in tools for HVAC, piping, hole-making, and electrical, and is a leading supplier of hand tools as well. PlumbersStock carries thousands of discount Greenlee hand tools, power tools, and more. Offering nothing less than true quality in all products they create, no matter what you are looking for, you will not be disappointed with them.
Without a doubt, Greenlee tools will get the job done and you can find what you need at wholesale prices right here, whether you need a Greenlee multimeter, slug buster, circuit tracer, etc.
Types of Greenlee Tools
We offer a host of great tool options from this renowned manufacturer. Included with these are:
Greenlee Hand Tools: Whatever you are looking for, no matter if they are screw drivers, drills, pliers, levels, or utility knives, Greenlee makes them, and at the highest quality. Though tools of this sort often seem similar regardless of the brand, the moment you hold their version of the hand tool, you will know you have made the right purchase.
Greenlee Electrical Tools: Electrical workers need specialized tools more than anyone else, and they need to be sure they work perfectly. Fortunately, with our collection of transmitters, terminal crimpers, and testers at your disposal, you will have precisely that! Check out our stock to see our selection of electrician hammers, benders, couplers, and more!
Pipe Bending Tools: Pipe bending can be a difficult task, particularly without the right tools. This is why we offer the widest variety of pipe bending tools on the market. Whether you need benders, gauge assemblies, bending hickeys, or what have you, Greenlee can provide it.
Meters: If you are looking for a Greenlee multimeter, check out the great price on the analog version. Also, if you are in the market for a Greenlee circuit tracer kit, we offer the 2007 at a price that you can afford.
About Greenlee
Starting in 1862 as a barrel-making machine company, Greenlee has since evolved into a trusted source of professional grade tools. But, what truly makes them such a great company to purchase from is the wide variety of tools they offer. From tools for wire cutting, to woodworking, to wire installation and cable, to hole-making, test, and measurement, Greenlee has a tool for almost every occasion, and each and every one of those tools are as quality as they get. Greenlee tools are designed to outlast and outperform the competition every time, and you will see that the moment you get your hands on them.
The Lowest Prices Around
Another great facet of buying Greenlee tools is the fact that you do not have to worry about breaking the bank. Whether it is a Greenlee slug-buster, fish tape, or a crimper tool, you can be sure that it offers one-of-a-kind quality, and you can find it here at wholesale prices.
Wholesale Greenlee Electrical Tools, Multimeters, and More
Here at PlumbersStock.com, we offer over 3000 Greenlee tools so you do not have to go anywhere else. No matter what you are looking for, regardless of the job, you will find the right tool for the right price. Call today for more information concerning this industry leading manufacturer, or for more help choosing your Greenlee.com tools.
Save on the best tools at PlumbersStock.