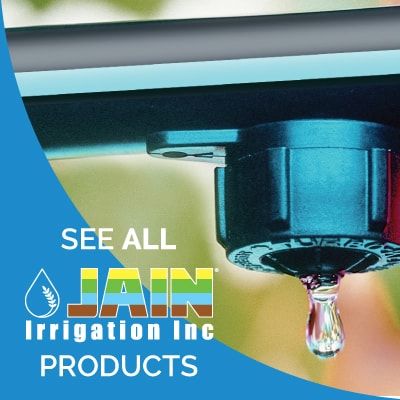 When it comes to your garden, there is nothing more important than making sure it gets fed and watered properly. It's not only your garden that you have to worry about, your grass and your trees also need plenty of water to survive those hot summer months and to be able to produce lush and beautiful plants and flowers. Jain Irrigation products offer a wide range of fitting choices to provide your grass, trees, and garden with plenty of water, so you have one less thing to worry about.
Jain Irrigation Products
See All Jain Irrigation Products
Fittings
They offer a variety of fittings so you can connect your drip tape directly into your sprinkler system or connect it to a hose bib. These Jain Irrigation fittings are easy to use ad are available in the specific sizes that you may need to connect it into your system. The fittings are also available in elbows and tees so you can customize the drip tape to fit your garden exactly. PlumbersStock carries wholesale Jain Irrigation couplings, adapters, caps, plugs, and more.
Jain Irrigation products include pressure regulators and filters. A pressure regulator can monitor the pressure within your system to make sure there is enough pressure moving through but not enough that it will cause damage, such as a pipe bursting. The filters can be added along with the drip tape to keeps small debris such as rocks and dirt out and thus avoiding any damage that may be caused by an unnecessary clog.
Drip Tape
One of the products that Jain Irrigation Inc is famous for is their drip tape. This item works in a very similar manner to drip line in that it can be laid along a row of crops are in a flowerbed. The tape is connected to a water line that can be turned on and off. When the water is turned on, it distributes the water through the tape and only where the tape is laid, allowing you to control where it gets water. The tape is available in a variety of different sizes as well as water flow rates, so you can have an even better selection of how much water goes to your plants. Available water flow rates are .4 GPM and .25 GPM. Another great thing about this Jain Irrigation product is that it is relatively inexpensive yet reliable enough to count on to get you the water you need. This tape is usually only suitable to be used for one season as the water moving through the tape combined with the hot summer heat generally breaks the tape down. One of the benefits of using drip tape is that even though it needs to be installed new every year, you don't have to worry about a drip tube that you have to put away for the winter, you can throw the drip tape away.
Buy Jain Irrigation Inc Wholesale at PlumbersStock
If you are looking for a simple way to water your garden or flowerbeds, then Jain Irrigation drip tape is the perfect product for you. This tape is easy to install and can be customized to fit your specific needs. You don't have to worry about storing this drip tape for winter, as it just needs to be thrown away. PlumbersStock.com offers everything you need for your drip tape installation, from the drip tape itself to any fitting you may need.
Save on a variety of the best irrigation fittings and more at PlumbersStock, and you can find out more information at JainsUSA.com.