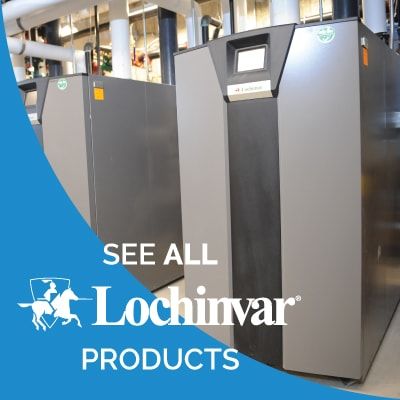 Through the decades, Lochinvar boilers have grown into a popular industry-leading brand. The Lochinvar Company can be summed up with one word, leadership. They have applied the attributes of leadership to edge out the competition. When they design a new product, they first start with the consumer and their feedback. This keeps them dedicated to providing high-quality products like the Lochinvar Knight boiler.
Lochinvar Boiler Product Information
Lochinvar boilers and water heaters are put through rigorous tests, including actually field-testing (home or commercial building). Due to their dedication, they have been able to produce appliances with up to a 99% AFUE (Annual Fuel Utilization Efficiency) thermal rating. The higher the rating, the cheaper your fuel bills will be!
Residential Boilers
Lochinvar Knight Modulating Condensing Residential Heating Boiler - the residential Knight models come in two different styles, including both Wall and Floor mounts. They have a control system called Smart System,  which is ahead of its class when it comes to boiler controls.
Wall Mount Models - The wall mount Knight Models have an astounding 99 percent AFUE efficiency. This essentially means that for every dollar that you spend, 99 cents of that is converted into usable energy. There are seven models ranging from 55,000 to 399,999 Btu/hr (British Thermal Units).
Floor Mount Models - these range from 80,000 to 285,000 Btu (British Thermal Units) models. It also has up to 98 percent AFUE thermal rating.
Solution Residential Heating Boiler - the Lochinvar Solution Boiler has seven models ranging from 45,000 to 260,000 Btu (British Thermal Units). This boiler also offers an outdoor reset that uses a sensor to help regulate the heat needed to have a comfortable living environment. The Solution Boiler was manufactured for easy installation by putting the piping/venting connection directly on top.
Efficiency Boiler - this is a great product! It is more of a flex boiler, meaning that it could be used for both commercial and home applications. It comes in 150,000 to 300,000 Btu (British Thermal Units) models. It also has up to an 84 percent AFUE rating, which makes it a great Lochinvar boiler when it comes to efficiency (hence its name) and lowers fuel costs. The Efficiency model has a compact design, and because of its copper tube heat exchanger. This unit is considerably lighter than the others.
Commercial Boilers
Lochinvar Knight XL - These have the same design as the Residential Knight Floor Model; they are just a lot larger. They range from 399,000 to 800,000 Btu (British Thermal Units) models. The models come in up to 94.6 AFUE thermal ratings. The Knight XL also has seven different options and uses a direct vent system.
Lochinvar manufactures all sorts of products, from home heating boilers to pool and spa heaters. Currently, here at PlumbersStock, we only carry Lochinvar boilers. Shop with us and save!
Get Lochinvar Boilers for Sale Online
When it comes time to buy a new boiler for your home or residential property, you cannot go wrong with Lochinvar. Their continuous innovation leads to the home heating industry. If you have any questions about finding the right boiler or shipping rules, please contact our professional staff, and we can help you with what you need. Save on boilers here or learn more at Lochinvar.com.