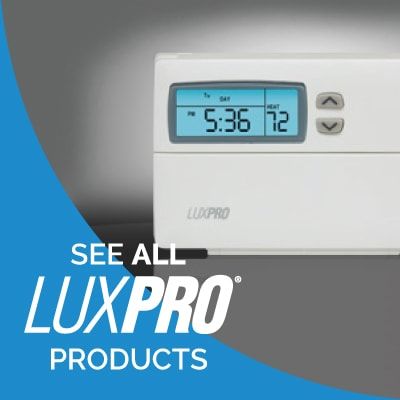 PlumbersStock offers products by reputable HVAC manufacturers, and when it comes to system controls, Lux Products Corporation (LuxPro) is among the most widely respected producers. LuxPro thermostats offer a full selection of over 30 programmable, digital, and mechanical controls. All of them are designed to be reliable, simple and precise for our customers so everyone can enjoy both the benefits and comforts of advanced temperature control.
PlumbersStock carries a wide variety of options for both Lux thermostats as well as LuxPro accessories.
LuxPro Product Features
For most homeowners we recommend a programmable Lux digital thermostat. This includes everything from touch screens to more affordable alternatives. The most popular models are the 700 series and the Lux 500 thermostat series. Their programmable models default to an energy saving setup but all models can be easily reprogrammed.
Touch screen thermostats are a great option for any home. In comparison to some Lux thermostats, if you are considering most of the bells and whistles, adding touch screen technology does not make a large difference in price (compare the PSP711TS to the PSP722E). Unless you are very cost-conscious, we recommend going with the touch screen.
If you care about the temperature outside, we suggest you select a Lux thermostat that reads and displays that data. Ideally, most homeowners would purchase 7-day programmable because it makes it easy to conserve energy. In desert climates, temperatures frequently vary by 30-degrees daily, and a programmable thermostat can account for that. If nobody is home during the day, program your Lux thermostat to either shut off or reduce output during those hours.
If you are old school, do not forget to check out the LuxPro mechanical thermostats offered here.
Accessories
Included here in our inventory are wall plates, thermostat guards, and more. Guards are great for commercial application because they can be locked to prevent unwanted meddling with the HVAC system.
More about LuxPro
As a subsidiary of Lux Products Corporation, LuxPro has manufactured quality products since 1914. They offer a full line of electronic and mechanical thermostats for nearly every heating and cooling application. Lux programmable thermostats save energy by adjusting heating or cooling for only the periods when the building is in use. LuxPro has been praised by energy experts for their mercury free and energy efficient thermostats.
Save on Lux Digital Thermostats with PlumbersStock
With the best prices on the web for HVAC supply, PlumbersStock is the right choice for finding a discount programmable thermostat. If you are having any problem navigating through the various products, please contact our customer support staff or learn more at LuxProProducts.com. Choose a reliable HVAC control system so that you can conserve energy and lower your heating and cooling bill.