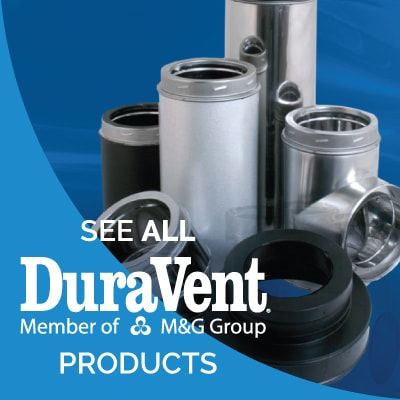 As a member of the M&G group, DuraVent stove pipe, kits, and other chimney parts are made with great quality. M&G is of the foremost leaders of everything HVAC. With hundreds of vents, double wall pipes, and more, you are sure to find something that you need for your HVAC project; however, variety isn't the only thing that makes DuraVent chimney products such a great buy. Known for high quality implements in the HVAC world, DuraVent produces only items that can pass their very high standards; this is precisely why we offer DuraVent as one of our primary vendors.
By providing this staple in the HVAC industry, we give you one of the best sources for vents anywhere at some of the most competitive prices online. Read on for more information about popular products, like M&G DuraVent stove pipe.
The History of DuraVent
Founded in 1958, DuraVent is a leading manufacturer of Gas Vent and chimney products, and has been since its founding. It has gone through many overhauls throughout the years, being purchased by Sampson Manufacturing in 1982, then by M&G in 2010. However, the goal has remained the same: To sell only the most innovative and professional products for HVAC markets across the world.
DuraVent Products
Today, we bring you the best DuraVent stove pipe online for the most affordable prices, so you can complete your HVAC project with the peace of mind maintained by a truly professional company. Here are just a few of the product types we offer from the DuraVent catalogue, and what projects you can use them for:
Direct Vents: Used for gas stoves, gas fireplaces, and furnaces, M&G DuraVent direct vents allow easy and efficient ventilation that expels many of the harmful byproducts, while retaining as much heat as possible. These eliminate the need for a standard chimney system by drawing combustion air from outdoors and exhausting combustion products to the outdoors as well.
Triple Wall Pipes: Also used for heating implements like stoves and fireplaces, the triple wall pipe is exceedingly efficient in retaining heat. If made right, which DuraVent chimney pipe products normally are, "the triple wall pipe can provide heating to your home, while cutting down on the harmful byproducts created by smoke and fire.
HVAC Venting Pipes: DuraVent also provides a variety of standard and not-so standard venting pipes throughout our site, all at incredible low prices. So, whether you are looking for stove pipes or AC venting systems, DuraVent stove pipe is sure to offer what you need.
Firestop Vents: Firestop vents help avoid catastrophes by forming an effective fire barrier between chimneys or vents and the surrounding area. These are required in most heating implements, such as stoves and fireplaces.
Buy DuraVent Stove Pipe Wholesale
When it comes to M&G DuraVent pipe, PlumbersStock.com provides quite a few of their best items in stock. You will find all of the above items, in addition to one of the largest selections of vents around, so we can help you fill your HVAC needs.
We want PlumbersStock.com to be a one-stop shop for HVAC and plumbing tools, which means filling out our stock with anything and everything from DuraVent and other vendors. Best of all, we feel like we are almost there. Trust us; if you are looking for DuraVent stove pipe, or other HVAC/plumbing products that you may need, try PlumbersStock.com first. Call our contact line, or just keep on looking around if you need more information concerning DuraVent.com or the great products on this site.
Thanks for visiting and taking advantage of our low prices on HVAC products!