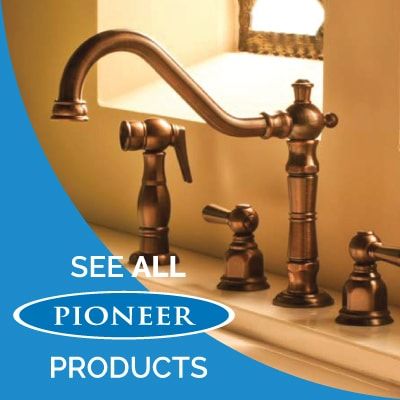 PlumbersStock offers a huge inventory of Pioneer faucet products, including its high-quality line of bathroom and kitchen faucets. Pioneer is an industry leader in terms of stretching the consumer's dollar. Their fixtures are very affordable and are built to last. With traditional designs and quality engineering, when you buy a Pioneer faucet, you are purchasing a beautiful product that will last you years to come.
Pioneer Fixtures & Parts
Shop PlumbersStock for hundreds of discount options, and use the filters on the left to sort the products by characteristics you desire in your fixture. This will save you time, as you compare conveniently side-by-side the products that match your selection criteria.
Pioneer Bathroom Faucets
If you are looking for an affordable lavatory faucet or tub trim set, then you have come to the right place. Set your bathroom up with a matching shower, bath, and lavatory faucets at prices that are hard to resist. Pioneer lavatory faucets come in single-handle or double-handle configurations. Those that prefer a more traditional look for their bathroom should probably choose the latter. For a classy look, try one of the Widespread faucets. The handles are elegantly spaced out from the spout giving it a more open feel. Not all Pioneer faucets are "blue-collar." They have the range to equally satisfy bargain shoppers and those with taste that is more expensive.
We carry thousands of fixtures and parts, including:
Lavatory sink faucets
Tub faucets
Showerheads
And matching shower and tub faucets
Pioneer Kitchen
No matter your budget, you can find a Pioneer kitchen faucet to suit your needs. Whether you just need a simple single-handle, or you need a more elaborate unit with side spray assembly, PlumbersStock has the discount prices you need on hundreds of kitchen faucets/parts by Pioneer. There are deck mount options, wall-mount options, and of course, there are pull-down faucets. If you prefer a two-handle kitchen faucet, then we have that too. We recommend a one-handle faucet for the kitchen, simply because it is more convenient to turn on and off as you are doing ordinary tasks (presumably with your hands full).
Pot Fillers
Serious cooks like to install a pot-filler next to the stove, so they do not have to carry a giant pot of water from the sink to the range. Be careful about your selection. Some pot fillers are made for cold water only, and this will not do if you need hot water capability. Pioneer manufactures both affordable and high-end fixtures, so we have something for everybody.
Bar Faucets
Our entire Pioneer bar faucets come with the tradition long curved spout that is ideal for pouring into a glass or pitcher. With options ranging from Tuscany bronze to stainless steel, and polished brass, you will find the perfect faucet to pair with your bar or pantry.
Buy Discount Pioneer Faucets Online
If you need help finding the right faucet for your kitchen or bathroom, contact our customer service representatives, and we will point you in the right direction. Thank you for choosing PlumbersStock for Pioneer faucets and all your plumbing, HVAC, and sprinkler supply needs. Save on bathroom and kitchen faucets and parts or learn more at PioneerInd.com.