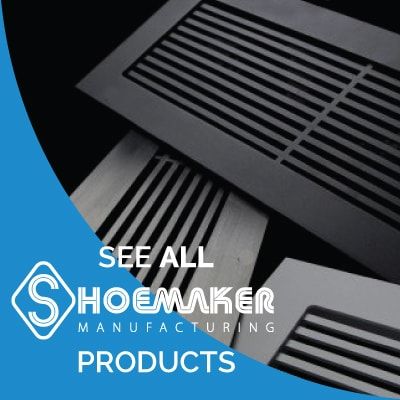 Grilles, registers, and diffusers are the finishing touches on your HVAC system. With thousands of discount Shoemaker grilles to choose from, PlumbersStock is sure to have the size, color, and style you desire in a Shoemaker grille. With the best prices on the web, it comes as no surprise that PlumbersStock so many choose us for Shoemaker:
Registers and diffusers
Return air grilles
Dampers
And more
Shoemaker Vent Cover Options
Shoemaker Grilles - An air grille is a termination you often see on the wall in your home, which allows the passage of hot and cold air for the HVAC system to function correctly. When purchasing an air grille, the focus will be on getting the right size. For the large majority of applications, you will want white Shoemaker grilles. Grilles are limited in that they do not offer an option to control the direction of airflow. It comes out one way and one way only.
Shoemaker Registers - The major difference between a grille and a register is that the register allows users to control airflow by adjusting the lever. This is a great energy-saving measure for bedrooms and bathrooms that do not get frequent use. A grille is ideal in high traffic, central areas like a living room, but you would not want one in the guest bedroom. Get a new Shoemaker register for the guest bedroom so that you can avoid heating and cooling a room that is seldom used.
Shoemaker Diffusers - Last, but not least, Shoemaker diffusers are excellent terminations ideal for spaces where you want air directed in a variety of directions. Diffusers are pre-set and cannot be adjusted. Some diffusers do allow for a shut-off feature, but for the most part, you will want to use them in high-traffic areas to conserve energy operating your HVAC system. Kitchens, living rooms, and hallways are ideal for diffusers.
Discount Shoemaker Terminations and Vents
With reputable manufacturers like Shoemaker and the lowest prices on the web, it may come as a surprise that PlumbersStock has even more to offer the consumer. Our gigantic inventory ensures that you find the discount Shoemaker grilles you need. Our fast shipping ensures that you avoid a trip to the hardware store and get the part in a timely manner. If you have any trouble locating the right HVAC part, please contact a member of our team and they will help you find the right Shoemaker floor register, or whatever it is you need to complete your home improvement project. Learn more at ShoemakerMfg.com.