One of the most important inventions in the history of the modern kitchen is the electric garbage disposer (or disposal). It makes life so much easier, but as with all technological advancements, sometimes you have equipment failure. Your system will eventually jam, so you need to know how to unclog a garbage disposal. Before we get into that, we need to discuss how you will see that it's jammed.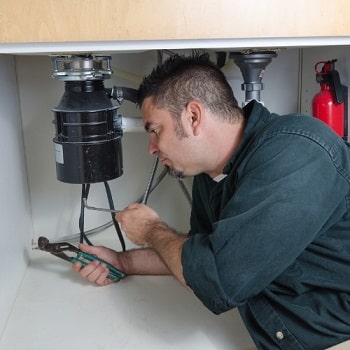 Garbage Disposal Won't Spin
If your garbage disposal won't spin, it is probably because of one of these common reasons:
You have wiring and/or power issues.
There is a foreign object gumming up the works.
There is too much waste jamming it.
You didn't include enough water to flush the system.
If you have a wiring problem, then this article is not going to save you. Otherwise, you are in the right place. Also, it might be helpful to read about what you should and shouldn't put in a garbage disposal.
How to Unjam a Garbage Disposal in 9 Steps Or Less
Cut off the power - this is an essential step for obvious safety reasons.
Look before you leap - figure out what's causing the jam prior to engaging the obstruction. We recommend that you use a flashlight.
Use pliers to remove the obstruction(s) - do not stick your hand in the garbage disposer. You can likely remove the clogging agent with pliers more effectively, and it's a safer method.
Wait - when the disposal jams, it can overheat the motor. Wait 10-15 minutes after the last time you tried to run it.
Turn the power back on - once the power is on, you may have to press the reset button on the disposal housing underneath your kitchen sink.

Hopefully, now the garbage disposal is working but if it's still not spinning, follow these steps:


Cut off the power again - safety first.
Apply pressure to the blade - use a wooden spoon* to rock the impeller/blade back and forth until you can feel it free itself up.
Wait - another 10-15 minutes so the motor can cool down.
Turn the power back on - again, press the reset button, and your machine should now be working.
*Some models come with a tool (a hex wrench), which is intended explicitly for freeing up the impeller in these instances. If you have such a model, that's going to work a lot better than a wooden spoon.

If you prefer a video tutorial, try these youtube instructions from ChickFix USA.
Keep Your Kitchen in Tip-Top Shape with PlumbersStock
In addition to helpful learning resources, we have the best brands for the products you need. For example, with garbage disposals, we carry InSinkErator, Waste King, and more. Get your kitchen updated with trusted industry names at discount prices. Hopefully, this tutorial has been helpful, and you now know how to unclog a garbage disposal. If you have any questions about anything you read here, please contact us.
Related resources:
How Does a Disposal Work?
How to Fix a Leaking Garbage Disposal
Cleaning a Garbage Disposal
What Can You Put Down a Garbage Disposal
Installing an InSinkErator Disposal
Garbage Disposal Won't Turn On
Garbage Disposal Wiring
Garbage Disposal Buyer's Guide