So you've just bought a new garbage disposal and discovered it didn't come with a cord and plug, which is often the case. Then you ran down to the hardware store and found that a plug and play cord won't get the job done. You have to wire the thing, but you don't know how to wire a garbage disposal. Lucky for you, the experts here at PlumbersStock are sharing their expertise.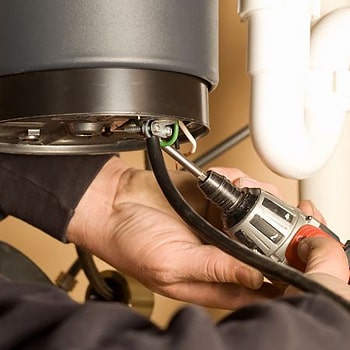 These instructions will have you covered if all you need to do is wire the disposal to a plug that connects to a wall outlet that then can be flipped on and off with a switch. If you need to hardwire into the homes electrical system, we strongly recommend that you hire a licensed electrician.
Garbage Disposal Wiring in 7 Steps
Despite what you see pictured here, it's probably easier to wire the disposal before you install it.
Open up the wiring compartment - you're going to need a screwdriver to remove the cover, which is usually secured with just one screw.
Place the cable clamp - you must insert it in the wiring compartment hole located within the base plate. Hopefully, you don't have big fingers because you will need to reach into the wiring compartment to tighten the nut.
Strip the wiring on the cord - using a wire stripper, remove about 3/4" of the insulation on the ends of each wire. Pay special attention to whether you are working with stranded copper or solid copper, and use the wire corresponding stripper type.
Connect the cord - take the wires you just stripped and put them through the cable clamp so that you can then feed them into the wiring compartment.
Tighten the clamp - do not tighten too much. Just enough to secure the wiring, but don't tighten so much that it's compressed.
Connect the wiring - because you cut them at 3/4", they should be long enough to connect just outside of the wiring compartment. You should have two different wire colors: white (neutral) and black (hot). That being said, you may come across a red wire, which should be matched to black. Connect and cap the wires, then tuck them into the wiring compartment.
Replace the cover to the wiring compartment - hopefully, you didn't lose that screw from the beginning of the job. Place the compartment cover into position and then secure it with the screw.
If you prefer a video tutorial, try this D.I.Y. Remodel Videos entry.
PlumbersStock Has Helpful Resources and Great Deals
We hope that this how to wire a garbage disposal tutorial has been helpful to you in your home improvement project. If you have not yet purchased a disposal, then check out Waste King and InSinkErator. If you have any questions about this how-to guide or any other query relating to garbage disposals, please do not hesitate to contact us or refer to our other helpful docs.
Related resources:
How Do Disposals Work?
Cleaning a Garbage Disposal
What Can You Put Down a Garbage Disposal
Installing an InSinkErator Garbage Disposal
How to Choose the Best Garbage Disposal
How to Unjam a Garbage Disposal
Garbage Disposal Not Working
How to Fix a Garbage Disposal Leak