Each kitchen sink faucet model has a specific configuration, and this video tutorial deals with how to install a single hole kitchen faucet. In this example, West Harris (our PlumbersStock professional) is working with a 90-degree high arc pull-out faucet by Moen, but this model shares commonalities with all single hole faucet installations. One great feature of this faucet is it has the stainless LifeShine finish which is guaranteed not to tarnish, corrode or flake. The tips you will learn here can be applied to most matching hole configurations.
Installing a Moen Single Hole Kitchen Faucet
Before you get started:
For this particular install, most everything you need is included in the box. You will find that is true of most faucet kits.
If you are installing the faucet with an undermount kitchen sink configuration, you will likely have to drill a hole (just like West does in the video).
For thorough instructions, the video is narrated with great detail. Here is a basic overview of the process:
If the hole doesn't already exist on your countertop, you're going to have to make one.
Attach the faucet extension.
Run it through the top of the faucet and the body.
With the assembly plate and escutcheon between the faucet and the counter, feed the hose through the hole and get the faucet in place.
Install the support bracket and mounting washer underneath the sink.
Connect hot and cold water faucet supply lines.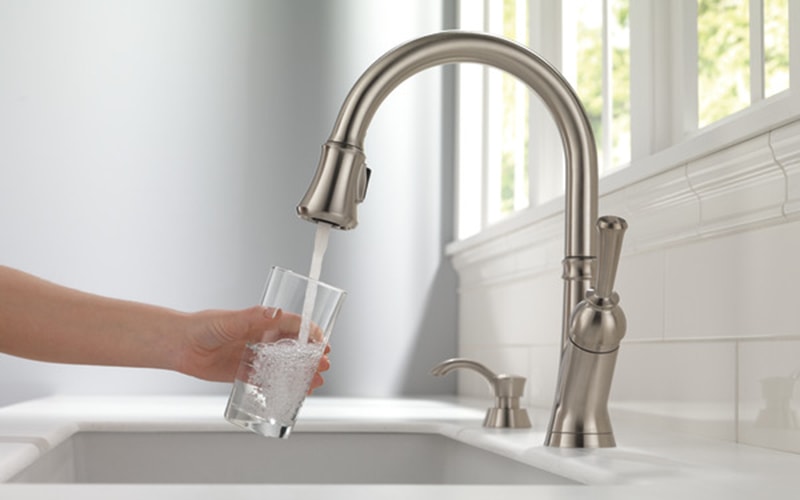 You may encounter minor installation differences, depending on your configuration. If you have any trouble with finding the right faucet or some issues with your installation, please contact us via chat.
We hope that this video gets your home improvement project off to a great start. One of the best tips any novice can take to heart is that a job-well-done the first time is better than taking shortcuts. Shoddy work can suffice for the short term, but little imperfections will show and become more apparent over time.
Buy Moen Kitchen Faucets Online
We have thousands of Moen products for you to choose from. Browse through our giant selection of Moen fixtures, parts, and accessories. If you can't find the right part, hit us up. Don't forget; we have other PlumbersStock how-to-plumb resources which offer other great tutorials. Check them all out.
Related Resources:
Installing an Undermount Sink in Granite
How to Install a Self-Rimming Sink
Installing a Sink P Trap
Replacing a Lavatory Faucet
Installing an InSinkErator